Hidden charges are never any fun so I'm here to tell you to expect to pay a tourist tax in Rome. This is a legitimate, legally required fee for anyone staying overnight in Rome but it can sometimes come as a surprise if your hotel or Airbnb doesn't warn you ahead of time. To avoid a scam, here is a guide to the Rome tourist tax.
Note: These taxes vary by city and each Italian city has its own rate for overnight hotel taxes. Venice is even planning a tourist tax for day trippers who do not spend the night. The information included about showing your passport to hotels, however, is true for all of Italy.
Rome Hotel Tax
All hotels, vacation rentals, B&Bs and Airbnbs are technically required to collect a hotel tax in Rome. This tax is often requested to be paid in cash because it is turned over to the authorities rather than going to the business itself. I find that people ask most often about this in the case of Airbnbs because the Airbnb website does not collect the city tax when you are paying for the apartment. The city tax is paid directly to the Airbnb owner and this can sometimes feel like a scam.
The tourist tax is not a scam, but you are absolutely entitled to an official receipt. Feel free to request one. This also helps to ensure that the Airbnb owner is actually turning over the cash to the city of Rome.
I usually make my hotel reservations through booking.com because I like their cancellation policies and support desk. However, I always have to check the fine print in my booking confirmation to confirm if the city tax was included in the price that I already paid. In this case (for an apartment that I booked in Florence), you can see that the tax was already paid. The last item notes that the city tax is included:
Regardless of how you book, this information about if you have already paid the tax should always be included in the fine print. Good Airbnb owners will write this into the description of their apartment so that you are aware of the charges in advance.
Cost of the Rome Hotel Tax
The amount you pay for the tourist tax in Rome depends on the type of hotel you are staying at. The price goes up based on the number of stars that your hotel has.
The rates for the Rome city tax are:
€3 per person per night for 1 and 2-star hotels
€4 per person per night for 3-star hotels
€6 per person per night for 4-star hotels
€7 per person per night for 5-star hotels
€3.50 per person per night for hostels, Airbnbs, holiday rentals, guesthouses, B&Bs, and similar accommodations.
The rules for the Rome city tax are:
It must be paid for the first 10 nights. If you are staying more than 10 nights, you do not pay a city tax starting on night 11 and running through the end of your stay. These nights must be cumulative. If you leave Rome after 9 nights and return later in your trip, your 10-day tax requirement starts over.
Children under the age of 10 are exempt from the tax.
For more information, here is the official city website with all the details (in Italian).
Providing Documents and Personal Information to Hotels in Rome
Don't be alarmed if you are asked to show your passport when you are checking into a hotel, B&B or Airbnb in Rome. It is actually required that you show official identification when you are staying overnight anywhere in Italy. This is because all hotel and vacation rental owners are required to register guest information with the Italian police within 24 hours of arrival.
Your information will be added by the hotel to alloggiatiweb, the official police website. Some hotels will ask to keep your passport, some will make a copy of the document, and some will simply record the information right away.
You may be asked to fill out a form that looks like this, recording your name, birthday, place of birth and passport number. Otherwise, the hotel will take your passport and complete the form on your behalf.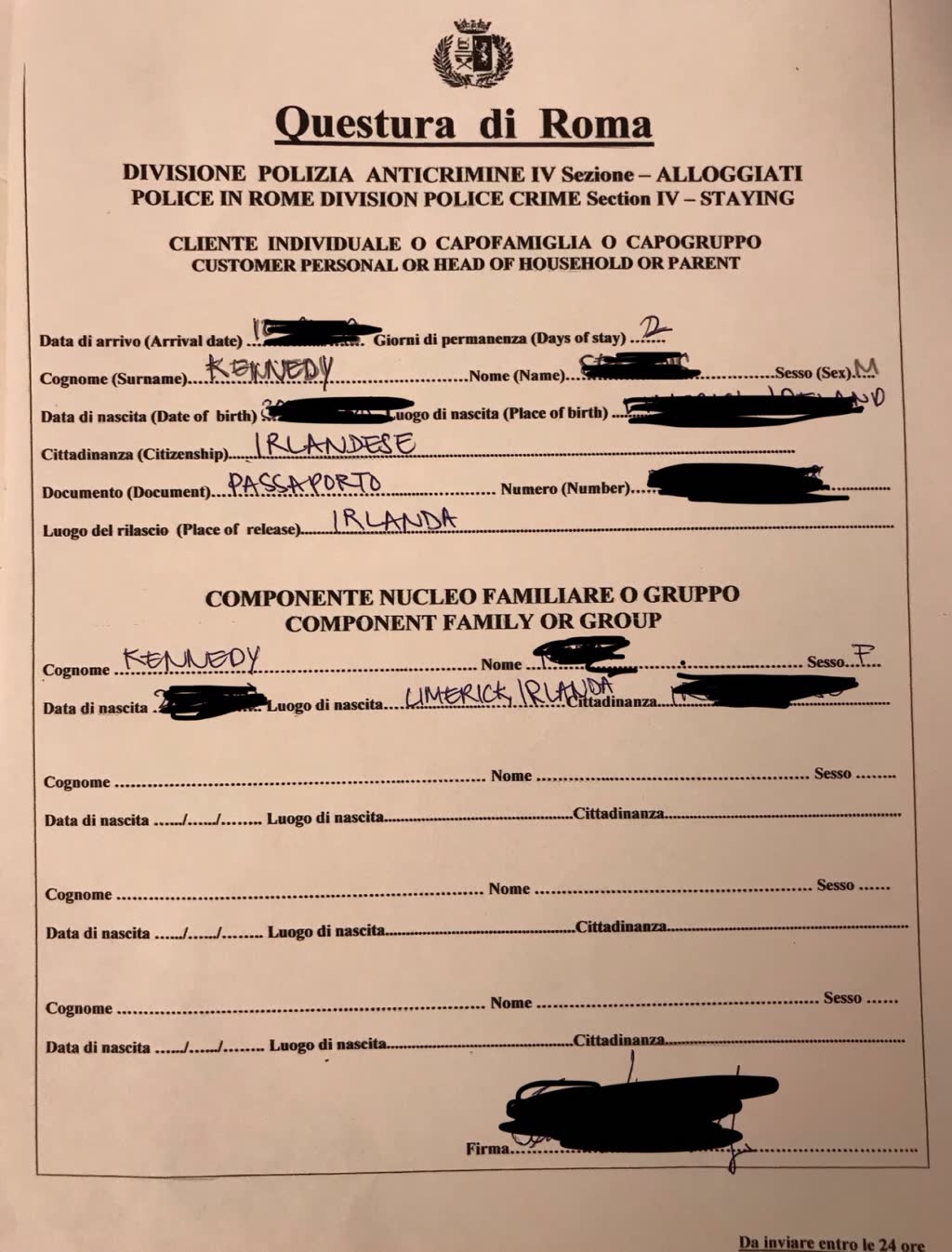 You do not need to send the Airbnb owner a copy of your passport before your arrival in Rome if this makes you uncomfortable. You are only required to show the document upon check-in. However, there is no way to avoid showing your passport at all. It is Italian law that the police be informed about who is staying where.
Ready for your trip to the Eternal City? Here are my favorite areas to stay in Rome, the best hotels for any budget, and a guide to the most romantic hotels in Rome.
Featured image by Christian Dubovan. This post may include affiliate links for services that I use and recommend. I may earn a small commission if you choose to book through these links but you are under no obligation to do so.