There are few addresses in Rome as enviable as Via Giulia.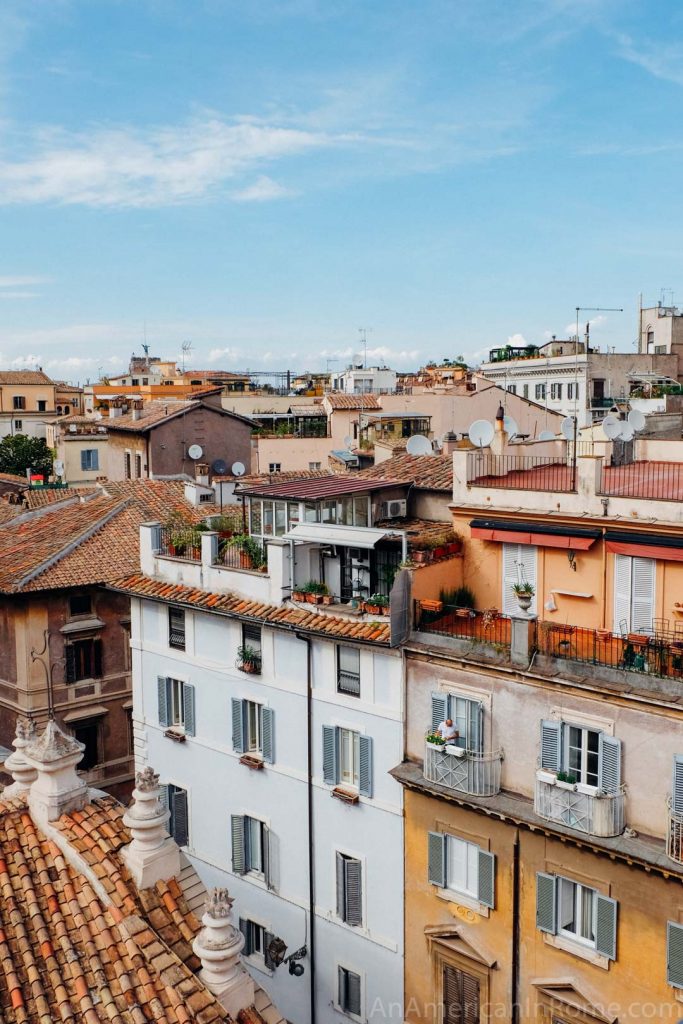 The stately cobblestone street cuts a straight swath towards the Vatican – which makes sense seeing as its construction was ordered by Pope Julius II. He called upon the biggest names of the Renaissance to help with designing this exclusive street. Bramante, Raphael, and Borromini each played a hand in creating the palazzi and churches that line Via Giulia.
The street is still home to gorgeous art galleries and tiny antique shops – so it should also come as no surprise that it also boasts one of the best rooftop bars in Rome.
Most people notice the entrance to the Hotel Indigo Rome – St. George thanks to its striking stone benches. The building was first designed by Bramante, who was commissioned to create the Palazzo dei Tribunali – a superior court. He abandoned the project but left the stately seats behind.
Walk past these travertine "sofas" and take the elevator up to the sixth floor because hidden above one of Rome's most famous streets is a terrace with 360-degree views.

Photo: Hotel Indigo Rome – St. George
I cannot tell you how many times I have strolled by the Hotel Indigo Rome – St. George without ever realizing there was a gorgeous bar hidden on its rooftop.
Half of the terrace looks out towards the tree-lined river and St. Peter's dome. The tables covered in white cloth and delicate stemware are a part of the hotel's I Sofa restaurant (which was included in the 2018 Michelin Guide).
The other half of the terrace is a dreamy aperitivo spot.  From the couches and tables, you can see both the Vittoriano and the top of Castel Sant'Angelo.
The Hotel Indigo – St. George bar is the perfect way to have your very own Via Giulia rooftop (and partake in a bit of dolce vita day-dreaming about someday having a private patio on the neighboring ochre buildings to call your own. Serious terrace envy).
The rooftop is sometimes booked for private parties, but you can otherwise head up there even if you are not a guest at the hotel.
And I certainly suggest you do because it is a lovely spot for a drink or two.
The €15 aperitivo (from 6 pm – 8 pm) comes with a small plate of nibbles and little snacks to enjoy. You can also upgrade and order something more from the chef if you want to sample a bit of I Sofa's cuisine.
Better yet? On Thursday, Friday, Saturday and Sunday all these views are set to the soundtrack of a live jazz band.
Music and Roman rooftops? Sign me up.
Via Giulia, 62
Rome, Italy (Centro Storico)
+39 06 686611
The terrace is regularly open May through October (though as long as the weather is nice they may open earlier in the year or stay open longer).
Many thanks to Hotel Indigo Rome for partnering on this post!