Crossing Rome, it is sometimes impossible to know exactly when you will arrive at your intended destination. Most often, you will be late. Buses will never arrive though you watch four pass by in quick succession in the other direction. Much more rarely, you will find yourself in alternate universe where the traffic and transportation gods align, and you will arrive early.
It was on one such day, when I was early to meet a friend for lunch, that I realized I had time to explore the Museo di Scultura Antica Giovanni Barracco.
The Giovanni Barracco museum is located close to Campo de' Fiori, essentially across the street from Palazzo Braschi.
One big bonus of this museum is that it is absolutely free. There is no fee to enter and explore the rooms filled with ancient sculptures.
While many museums in Rome have examples of ancient Roman marbles, many of the pieces in the Barracco collection pre-date that.
Giovanni Barracco studied the classics at a young age and became enamored with ancient civilizations.
Over the course of lifetime, he began to slowly amass pieces of Egyptian, Mesopotamian, Phoenician and Etruscan art.
(His noble background and Calabrian landholdings allowed him to finance his buying habits). He donated his collection to the city of Rome in 1902.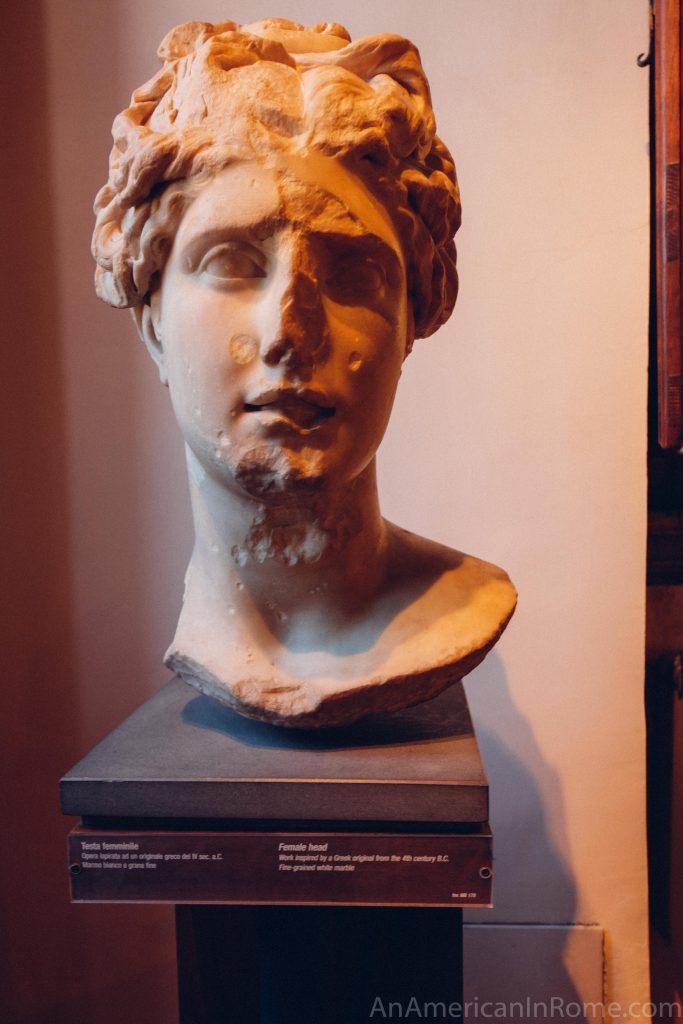 My father is a historian, but I always admit that I only enjoy history and ancient art in small doses.
The Giovanni Barracco museum is perfect for that.
With free tickets, there is no risk for wandering in and wandering back out.
The museum is housed within a 16th-century palace, so I enjoyed admiring the architectural details like the elaborate windows and beautiful floors, in between the sculptures.
Whereas the Vatican and Capitoline museums can be overwhelming in terms of size and crowds, the Giovanni Barracco Museum feels intimate and manageable.
Without any crowds, the two floors are yours to explore at your leisure.
Museo di Scultura Antica Giovanni Barracco

Corso Vittorio Emanuele II, 166A
00186 Roma (Centro Storico)
Open Tuesday – Sunday from 10 am – 4 pm. Closed Monday.
Free entrance.