Millions of people visit the Vatican (St. Peter's and the Vatican Museums) every year. And yes, some are turned away because of what they are wearing! Even though it is a major tourist attraction for people of all backgrounds, Vatican City is also a major holy site in the Catholic religion. As such, it is important to think about what to wear to the Vatican (or t0 any church in Italy, for that matter).
Vatican Dress Code
First things first: what are the actual rules about what you can wear to the Vatican? It is actually more about what you CAN'T wear. The following items of clothing are not allowed in the Vatican Museums (including the Sistine Chapel), St. Peter's Basilica or the Vatican Gardens. If you are visiting it is prohibited to wear:
Mini-skirts
Shorts above the knee
Sleeveless tops
Lowcut clothing
Hats
The Vatican's dress code applies to both men and women and essentially comes down to ensuring that your knees and shoulders are covered.
What to Wear to the Vatican
While there is a dress code in terms of what is not allowed, there are no set rules about what TO wear to the Vatican. (Unless you are a female diplomat about to meet the Pope, in which case you wear black. I doubt this applies to too many of us).
If you are visiting St. Peter's Basilica and/or the Vatican museums, you should dress for comfort while respecting the rules about covering your knees and shoulders.
Blouses or shirt that cover the shoulder
Skip the spaghetti straps and be sure to wear a shirt with sleeves when you are visiting Vatican City. This is more of an issue in the summer than in the winter.
There is no need to dress formally but men may want to opt for a linen shirt (which is a good choice for traveling to Italy in general).
For women, if you are wearing a dress or top with thin straps, you have two choices: bring a scarf to wrap around your shoulders, or carry a cardigan to wear inside at all times.
It is probably going to be less hassle to simply wear a blouse or a t-shirt with sleeves. Short sleeves are fine, but I would pick a breezy top like this one for comfort (and because Italians tend to dress up a bit and save the t-shirts for the gym).
Mid-length skirts or trousers
It can be annoying to be banned from wearing shorts in the heat of summer, but the Vatican is serious about keeping knees covered. My favorite solution is to wear a mid-length skirt (or a dress that goes to the knee). I find that this length of the skirt is great for braving public transportation as well because then your skin doesn't actually have to make contact with the bus or metro seats.
There is no need to be frumpy (though the flash of midriff above isn't going to work – simply pair the skirt with a different top).
Guys can sometimes get by with longer shorts, but trousers or jeans are always a better bet. Pick a lighter cotton like these for summer months when the museums are hot and crowded.
Flat shoes
It is not explicitly banned, but I do not recommend wearing flipflops or casual sandals to the Vatican. Again, dress like you are going to church (which you are!)
The Vatican Museums are massive and every hall combined would stretch on for eight miles. You will be walking A LOT, so keep this is mind when you dress for your day.
I like structured flats or Superga sneakers (which are insanely popular here and go with pretty much anything).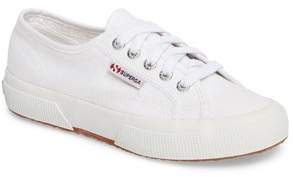 Breaking the Vatican Dress Code
If you arrive at the Vatican wearing short shorts and a tank top – fear not! While you can give up and head home if you like, you can also purchase a plastic poncho/robe to wear around which covers your shoulders and knees. Yes, everyone will look at you but at least you can still go see the Sistine Chapel?
Here are some suggestions on items that you can wear to the Vatican:

Do you have any other suggestions about what to wear to the Vatican?
And do you already have your tickets? If you are planning to visit the Vatican, be sure that you have your tickets purchased in advance to avoid the two-hour-long line.
For more Italian fashions tips, here is what to wear on a flight to Italy and what to wear in Rome in autumn.
Please note that this post includes affiliate links and I may be compensated if consumers choose to utilize the links located in this posts and generate sales for the said merchant. You are not obligated to click on any link or buy any products that are advertised.