When my friend came to spend the holidays with me in Italy, we went on an adventure to eat the best pizza in Naples. Slow train journey to Naples and back in one day for Da Michele? Worth it.
After our Neapolitan experience, we were on a mission to find the best pizza in Rome.
I'll preface this with a warning: I've become one of those people. One of those people who now insists on making a distinction between pizza and pizza al taglio. They're different.
Pizza is something you order at a restaurant. It comes to you taking up the entire plate and you look at it thinking "I'll never be able to eat that whole thing." But then you do. Of course, you only eat it with a knife and fork! Don't pick it up with your hand, heathen! (Being non-Italian, I am often flexible on this last rule. American pizza is meant to be eaten in slices and I can't quite give up that habit, even if it means dirty looks from fellow patrons).
Pizzarium has the best pizza al taglio in Rome: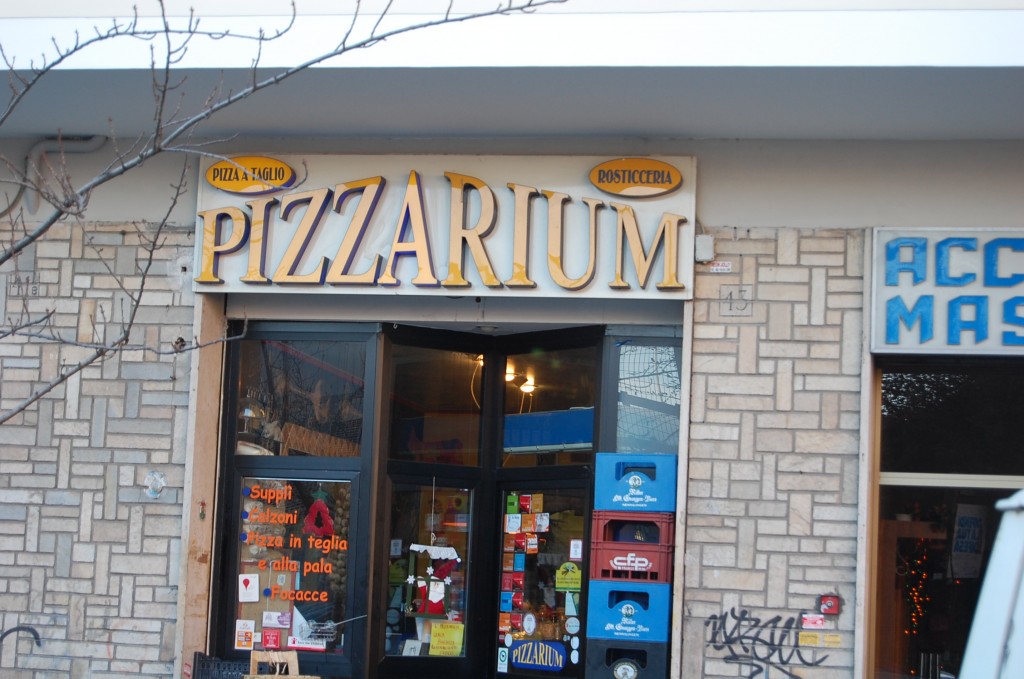 'Pizza al taglio' literally means pizza by the cut. In other words, this is how you get a slice of pizza in Rome rather than a whole pie all to yourself.
Pizza al taglio is sold by weight. The person behind the counter will hold the knife over the pizza and you can tell them if you want a little more or less. They will then weigh the slices and hand you a bill.
Pizzarium is step beyond famous in these parts. I first heard about it from Juls when she came to Rome for the day and we got to talking (surprise surprise) about food.
Let me tell you, 18 Euro/kg for pizza al taglio is a wee bit ridiculous.
Also, totally justified when you're talking about Bonci's pizza.
You can see the shrimp pizza to the right. I turned around just it was being brought out and came face to face with the man himself, Gabriele Bonci. I stared at him with total awe and he stared right back, probably out of confusion and possibly a little bit of fear. I didn't handle my first Rome food celebrity sighting very well. I definitely looked crazy.
Gabriele Bonci is the recognized ruler of all things slow-rise-doughy in Rome. He has some special secret dough trick that makes 18 Euro a kilo seem like the best deal you've ever gotten. (There is also a Parioli location "Pane & Forno")
In addition to mouth-watering pizza toppings, Pizzarium has a wide range of regional beers and drinks. I've been jonesing for more Amalfi Lemon Gazzosa since I tried it there in December.
There's not a lot of room in the pizza place itself, but on a nice day you can scarf down your slices outside before continuing on to explore the neighborhood. We grabbed ours and then headed over to the Vatican. (Pizzarium is just steps away from the Cipro metro stop on Line A, so its ridiculously easy to get to).
Note: These photos were taken pre-renovation (because I am lazy and my Italian internet is slow and it takes me forever to upload pictures). You can read all about the updated Pizzarium (which is still very very good, if not better than ever before). Be sure to try the fritti!
Pizzarium
Via della Meloria, 43
00136 Rome
06 39745416