There are lots of reasons to visit the Salento area of Puglia. The southernmost part of the heel of Italy's boot is filled with incredible beaches, Baroque architecture, and cultural experiences. Of course, there is also its delicious cuisine and there are quite a few things you need to save room for in order to sample all of the specialties there are to eat in Lecce.
Lecce is the largest city in Puglia's beautiful Salento area. Some of the dishes come directly from Lecce, while others hail from smaller villages and can be found throughout Salento.
Pasticciotto
Probably the best-known food to hail from Salento is the pasticciotto. Pasticciotto is a pastry and you should eat as many as possible while in Lecce. Shaped a bit like a small boat, the thick shortcrust dough is filled with pastry cream. You will often find less traditional takes on fillings as well and can find a flavor to match your preference. They are delicious when eaten warm from the oven for breakfast, but keep well through the day (though much longer and the filling may make the shell soggy). The pastry was most likely created in the town of Galatina, but you can find several excellent versions in Lecce proper. Natale and Caffe Alvino make some of the best pasticciotti around.
Rustico Leccese
The Rustico Leccese is a thing of beauty. While the sweet pastries of Lecce may be better known outside of Salento, my absolute favorite thing to eat here is a savory rustico.
The portable street food is made with a flaky, buttery dough that is filled with béchamel, black pepper, and mozzarella. A small dab of tomato adds a hint of sweetness to contrast with the out-of-this-world saltiness of the rest of the rustico. These are best still warm, but you can also back a few purchased in the morning for a fabulous beach snack if you happen to be heading out for the day.
Pucce Pugliese
Puccia is a kind of bread that comes from the Salento area of Puglia. In Lecce, you will find these buns (which measure about 8-10 inches across, cut in half, and filled with all kinds of vegetables. You can order the puccia to be made to your liking, requesting a combination of peppers, eggplant, wild wilted greens, and cheese. Of course, capers and anchovies are another popular choice.
Local Pasta
Don't leave Lecce without trying the typical pasta known as ciceri e tria. The texture is what makes the ancient dish so interesting – half of the pasta is fried, half is fresh pasta, and the base of the dish is chickpeas. You can also find a Leccese version of the famous orecchiette pasta, made with aged ricotta forte and tomato sauce.
Caffe Leccese
Southern Italy can be quite hot during the summer months and one of the preferred drinks in Salento is a kind of iced coffee called caffè leccese. This can be ordered first thing with breakfast or enjoyed later in the day as a refreshing pick me up.
In this case, latte di mandorla refers to a kind of milky, sweet almond syrup rather than a dairy-free milk alternative. The almond syrup is poured over ice and a hot shot of espresso is added on top. Stir it well and don't worry about adding any additional sugar – the coffee will be plenty sweet.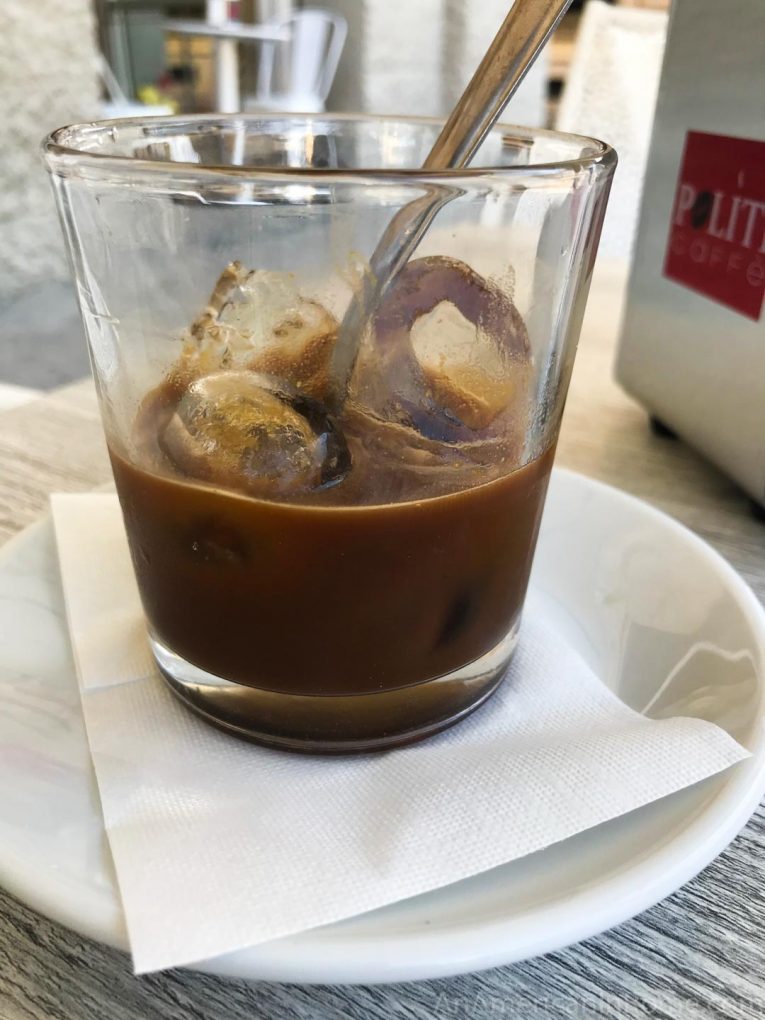 Horse
Having grown up in North America, I personally don't eat a lot of horse meat even though it is fairly common in parts of Italy. This is more a cultural block for me than anything to do with flavor. The lean meat is actually really quite tasty and it remains popular in Salento. You can find it on menus in Lecce as rolls that are cooked in tomato sauce. Trattoria Zonzi is particularly well known for serving carne equina cooked in the Lecce style.
Traveling around Puglia? Be sure to detour for a meal at Ristorante Cibus – one of my favorite restaurants in all of Italy.