One of the most imposing buildings in the Bari cityscape is the Norman castle that sits between the old town and the water. But the true titans of Old Bari (Bari Vecchia) are the women making pasta in an alleyway almost directly across from the entrance to the castle.
About 100 meters/yards from the old moat is a small archway known as Arco Alto at the edge of Bari Vecchia. Walk through here starting around 10 am and you will find women sitting outside or just inside their doorways, rolling out fresh pasta.
We arrived just as the ladies were setting up and their mail was being delivered. The tiny postal cart was just barely narrow enough to fit between the tables set in the alley, but it was clear that both the pasta makers and the postwoman had done this dance before.
Their mail now taken care of, the ladies got to work on their pasta. The pasta that they make in Bari (and the pasta that is popular throughout Puglia) is called orecchiette – little ears. Take a close look at the finished shape and it's easy to see why.
Orecchiette is pasta that is made with semolina and water. The dough is kneaded and kneaded into a tidy mound that the women then slice into pieces when they are ready to make the concavely shaped pasta.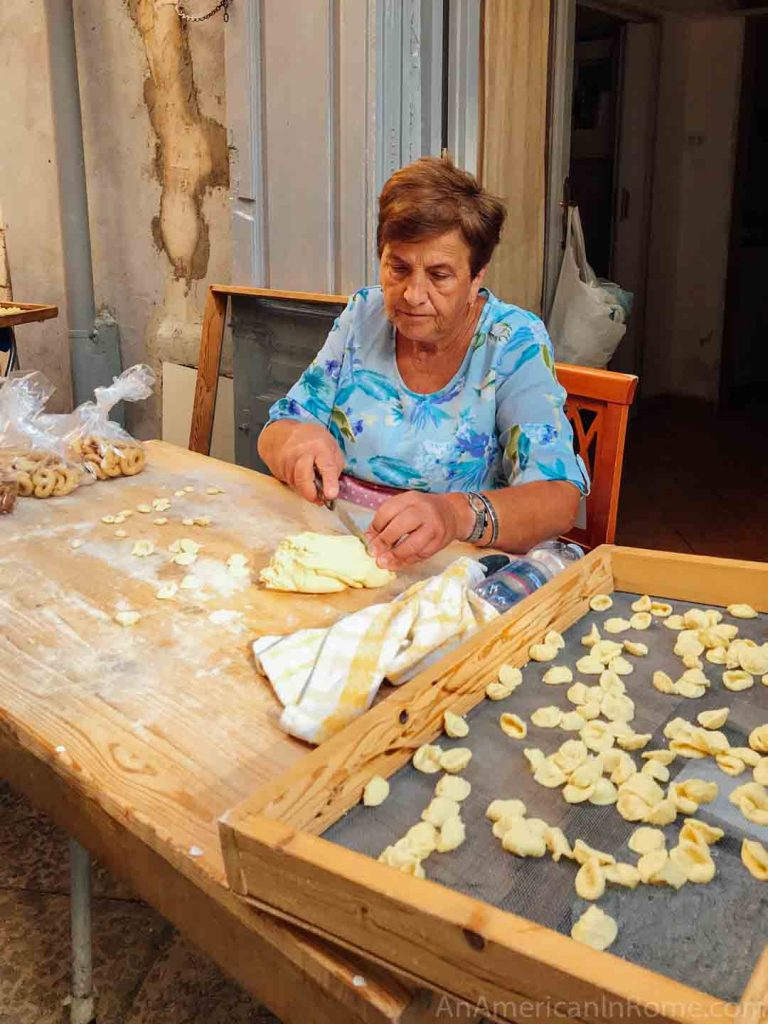 First, the dough is rolled out like a snake. The skinnier the snake of dough, the smaller the final orecchiette pasta will be. The last step is something that looks easy but takes years of practice (and these women are pros): taking a simple butter or small serrated kitchen knife, you cut off a piece from the snake of dough and in one smooth movement, smush and drag the piece to flip out and orecchiette.
In Bari, the pasta makers do this with unbelievable speed while chatting away with neighbors and passerbys, never missing a beat. I have tried to make orecchiette before and it requires you to be completely confident in your press and roll technique or you risk having a sad, smushed disk with none of the curled and ridged shape that is so typical of real orecchiette.
Want to see for yourself? Here is a quick video of the ladies at work:
Stop by to see their demonstrations (and be sure to buy some of their pasta), the next time you find yourself in Puglia.
I was there as part of a wider tour of the region with Radici del Sud and I am so looking forward to sharing more about the places we went and food that we tried!