Galleria Borghese is one of the best art museums in Rome. It is also one of the only Rome attractions where you are 100% required to prebook your entrance and you cannot purchase tickets at the museum itself. So how, exactly, do you get Galleria Borghese tickets?
Well, you can do it by phone, email, and online, and your effort will be well worth it because the small, private collection is stunning. This is probably my favorite museum in all of Rome – partly because the crowds are managed by this reservation system and you can really enjoy the intimate experience with work by the likes of Caravaggio and Bernini.
Here's how to ensure you don't miss out:
How the Ticket System Works
To secure your Galleria Borghese tickets you can reserve your entrance by phone, online, purchase via a ticket service, or take a tour.
NOTE: Galleria Borghese offers free entrance on the second Wednesday of the month. In order to visit the museum on a free day you must still book your tickets in advance and pay the reservation fee. Only the ticket fee is waived but the process for getting the Galleria Borghese tickets remains the same.
However and whenever you choose to buy your tickets, you will have to select an entry time on your preferred day. Selecting the time on the ticket is mandatory because the art museum only allows a maximum of 360 people inside the Galleria at any time.
Tickets are valid for two hours on the following schedule:
9 am to 11 am

11 am to 1 pm

1 pm to 3 pm

3 pm to 5 pm

5 pm to 7 pm
The last entrance to the museum is at 5 pm.
When you arrive at the museum, you must go to the ticket desk located to the left of the main stairways that lead to the entrance. You will share your proof of confirmation and be handed a physical ticket which will be scanned at the door to the museum.
You are allowed to stay inside Galleria Borghese for a maximum of two hours and must leave at the end of your designated time slot.
Reserve Tickets by Phone or Email
The most old school way to book your Galleria +39 06 32810 (Call Center open Monday to Friday, 9:00 am to 6:00 pm and on Saturday, 9:00 am to 1:00 pm CET). Admittedly, calling during Rome working hours may not be convenient depending on where you are traveling from.
You can press 2 when you call for information and booking support in English. I find the recordings a bit muffled but you can usually understand most of what they are saying.
You can also email [email protected] to book individual and group tickets.
This is the same way you reserve tickets if you plan on using a Roma Pass to visit the Galleria Borghese. The Roma Pass is temporarily suspended for the museum but you can get more information or book when it is active by sending an email to [email protected]. Reservations made this way are usually confirmed within 48 hours.
Reserving tickets in this way requires a mandatory €2 reservation fee. Galleria Borghese is closed Mondays.
Using a Ticket Seller
If you can't tell – I have very little patience for systems that waste my time, which is why I sometimes circumvent the Italian museum's archaic phone and online presence.
If tickets are sold out on your preferred date or if you can't get the website above to work, I highly recommend Tiqets. Tiqets has Galleria Borghese tickets for €25, including the reservation fee. For this €3 difference, tickets can be booked instantly and delivered right to your smartphone. You can also book a guided tour of the Galleria (which includes a ticket) for about US$50 or find more tickets on GetYourGuide for $30 or so.
Simply go to the ticket office right before your time slot and be given the paper tickets along with everyone else. The time it will save you is worth it, and they often have tickets available at the last minute when all of the others are booked out.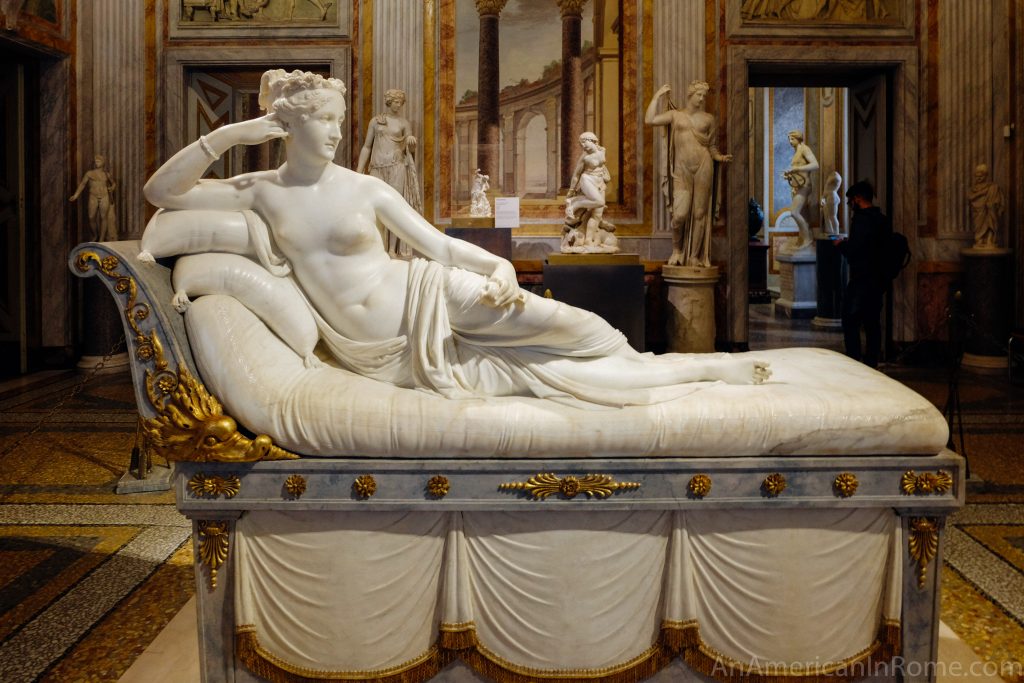 Purchase Tickets Through the Museum Website
I am being kind when I say that Italy's website game is seriously behind. This is only more true for public institutions and museums, which seem to still use old systems that crash at least as often as they work. For another example, see my detailed article on how to buy Vatican tickets to skip the line.
However, it IS possible to buy Galleria Borghese tickets online via Tosc. Find the ticket website requires some clicking around but this is the direct link.
First, select the month when you would like to visit from the calendar. Online tickets are usually released three months in advance. Next, click on the exact day when you would like to see the galleria. Hint: if you see that tickets are only available "da €26.50," that means that all individual tickets are sold out and you must join a tour.
Once you are on the exact day, you want to look for tickets that are still available. If you see "attualmente non ci sono biglietti disponibili" listed in a time slot, that means all tickets are booked (such as the 11 am slot below).
Intero is for adults, ridotto is for EU citizens 18-25, and children under 18 are free except for the €2 reservation fee. Select the numbers of tickets you want in each category and click AVANTI.
A pop up will ask you to confirm that you are not a robot and then you can advance to the payment page.
Adult tickets cost €20 and you must pay a €2 reservation fee for each ticket – bringing the total to €22. (Note: Ticket prices are subject to change when there is a special exhibition on).
If an error occurs you will see this message and you will have to try again:
Take a Tour
If you prefer to have a more in-depth experience at the beautiful museum – or if individual tickets are sold out but you still really want to go – I highly recommend a small group tour with Walks of Italy. The tour helps to bring the masterpieces to life and the price includes a pre-booked ticket to the museum.
Plus, Walks of Italy is offering a 20% off sale for ANY tour booking through July 22, 2019 with the code SUMMERSALE.
Go in Person and Hope for the Best
I am putting this option last because it is the least likely to work, but you can go and buy last minute tickets for the Borghese gallery in person. Walk directly to the ticket office and they will sell you a ticket (without that €2 reservation fee) if they have any left for the current time slot or the next entry time. You may end up with slightly less time inside or you may be turned away entirely – but you could also get lucky and have the chance to drop into this gorgeous gallery without a reservation.
Please note: The information in this post was accurate at the time of publication. This post may include affiliate links to services which I personally recommend. Should you choose to book, I may earn a small commission but you are not obligated to do so.