I am going to admit that I find shopping for leather items intimidating. They can be beautiful pieces but are also a major investment that I am worried about messing up somehow. That is why I was thrilled to discover the family-run Alfieri leather store in Rome.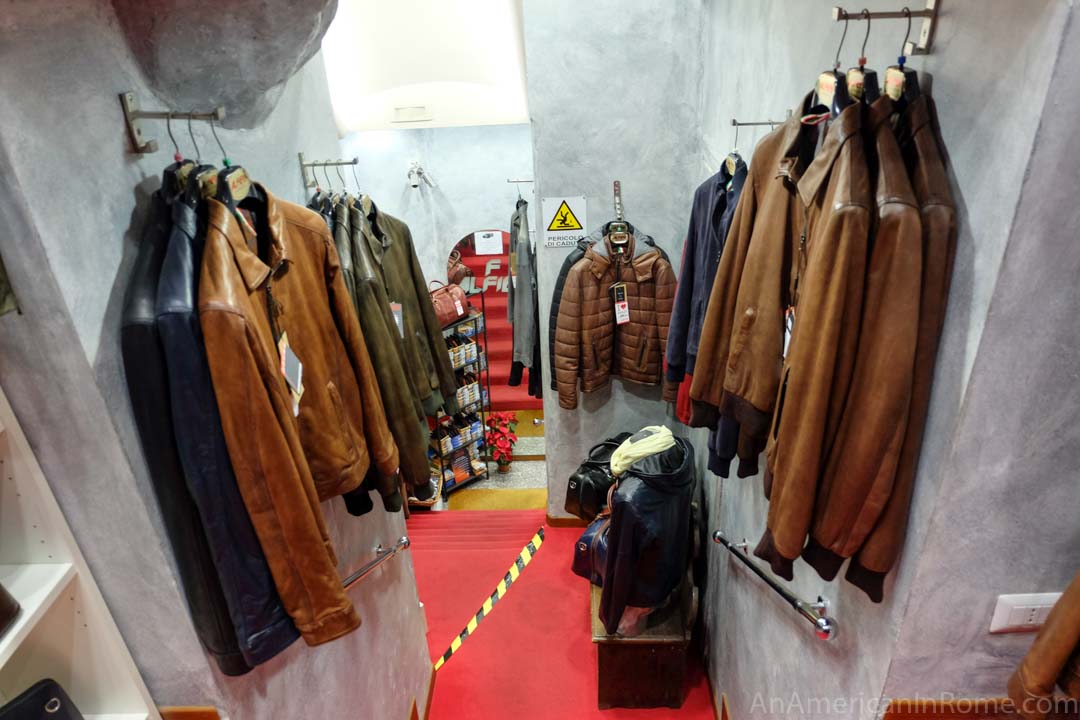 The store is owned by Flavio Alfieri, but it was started by his mother in the 1960s and has always worked directly with artisan producers to bring the very best quality Made in Italy products to the Eternal City.
The Rome leather store is the first shop along Via del Corso – one of the best shopping streets in Rome. You will find it at No. 2, steps from Piazza del Popolo.
It is impossible to tell from the outside of the small storefront just how many leather jackets and other items are waiting in the huge storeroom upstairs.
The shop assistants are great at helping you find and try just the right ones after talking to you about what you are looking for (and the lovely girls all speak English).
If you can't find your ideal combo of cut or color in stock, Alfieri can special order a custom leather jacket for you at no additional cost from their Tuscan.
Flavio personally knows all of the craftsmen who make the jackets that he carries in his shop. That instantly put me at ease because it is so important to know where your leather is coming from if you want to be sure of the quality.
Alfieri is so sure of the quality of their leather products that they offer a lifetime guarantee. And this, folks, is what finally convinced me. That kind of guarantee simply does not happen in the world anymore.
I was ready for my first Italian leather jacket.
I have never owned a leather jacket before in my life but I finally settled on a beautiful brown bomber jacket with lining. I tried on a few other jackets which were all expertly made, but I personally felt that they were a little too sporty/motorcycle for me.
Though I was almost tempted by this perfect gray leather jacket. It fit like a dream.
I am glad I went for it because I feel like the coolest version of myself when I slip this on. I don't even mind the chill in the air. (It actually makes me kind of happy because it means I can wear the jacket!)
I ultimately chose this style also because it comes with a Thermore lining for extra warmth (and you can even register with them for a guarantee on that part of your coat, as well).
All in all, it was a great experience and I will definitely be back when it is time for another splurge.
Tips for Buying Leather in Italy
Worried about getting the best quality for the price when buying leather in Italy? Here are some things to keep in mind when you are deciding where to shop and what to buy.
Shop small: Going to a family-run shop means you will find staff who know the stock and know exactly where the products came from. This means they have personally checked the quality because their own reputation will be associated with whatever they sell.
Examine the lightest color jackets or bags: Maybe you want a classic black leather jacket, but you should also ask to see some light colored items inside the store. Light dyes like gray will show any defects much more clearly than black leather. Checking the lighter leather helps you be sure that the shop carries high-end pieces and are not trying to pass off lower quality leather with a deeper dye to cover up flaws.
Pay attention to the dye: Poor quality leather will certainly show flaws, but that doesn't mean that the jacket, bag or boots should be a perfect uniform color. Hand-dyed leather (the artisan way of coloring the product) will show small variations in the tone which add to the uniqueness of each piece.
Look at the stitching: Quality products will be well made, with perfectly straight, even edges and seams. Check to make sure the stitching is aligned and evenly sized.
Check all the non-leather parts: Of course you are buying leather, but if the leather itself is good quality then all of the other accessories should be, too. Look at the zippers, check the pockets, examine the lining, and feel the other material to get a sense for if the piece is truly well crafted.
Ask about their brand: If the shop really believes in their products, they will probably have them branded. There should also be some kind of label to indicate that the product is certified as Made in Italy. Finally, the best stores will offer you a guarantee for a specific duration of time (or for life, in the case of this leather store in Rome).
Buy a bit snug: Once you have found a shop that has your dream Italian leather jacket, don't be afraid to buy it a tad snug. It should fit well in the shoulders and down the arms, but the shape of the jacket will eventually conform to you the more you wear it, much in the same way leather shoes become a bit roomier and comfier with time.
Have you ever bought leather in Italy? Do you have any other tips on how to find the perfect piece that is worth the investment?
Via del Corso, 2
Rome, Italy
Open 10 am – 8 pm everyday