The Sistine Chapel is found inside the Vatican in Rome, but the church of San Maurizio al Monastero Maggiore is sometimes known as the Sistine Chapel of Milan.
It is easy to see where the nickname comes from as soon as you step through the doors. The entire interior of the church is completely decorated. Literally, everywhere you look is covered with artwork.
Construction of San Maurizio al Monastero Maggiore began in 1503, and it was built using several walls and ruins that date back to ancient Roman times. In fact, the former monastery of the church is now Milan's Civic Archaeological Museum.
The museum houses artifacts from Etruscan times and Mediolanum (ancient Milan), and as charming as it is – the church is still the main draw.
While most people coming to Milan are plotting ways to get tickets to the Last Supper, very few ever make it to this stunning church.
Da Vinci's Last Supper deserves its fame – but it is shame that San Maurizio is not better known.  The 16th-century artists who created the frescoes inside don't have the same name recognition as Da Vinci, but they are celebrated in their own right.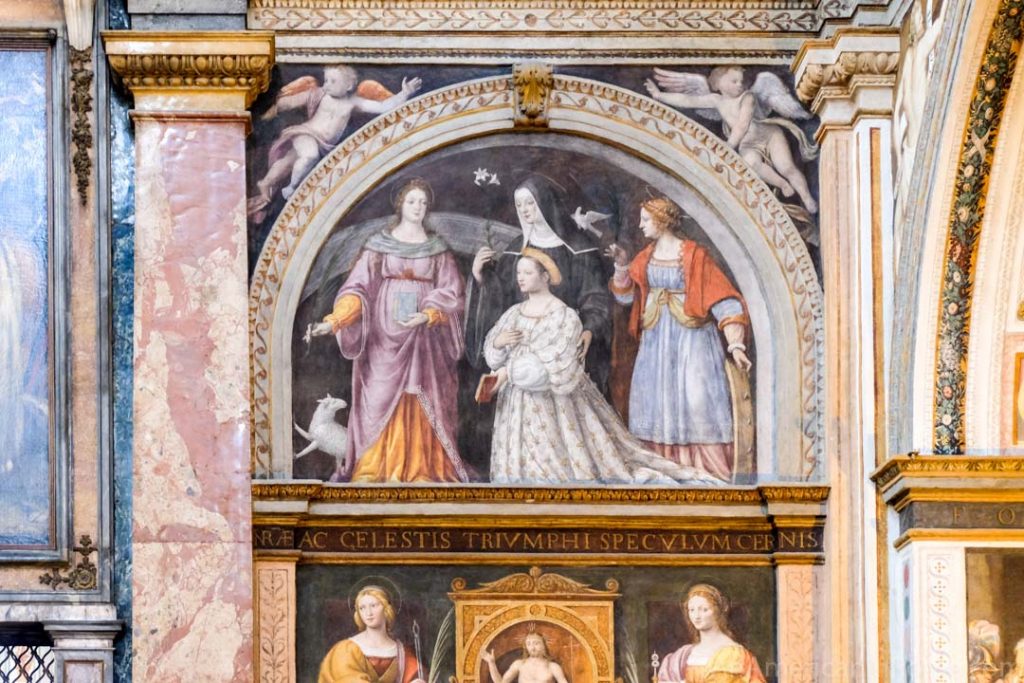 The works around the altar, for example, are by Renaissance painter (and friend to dear old Leonardo) Bernardino Luini.
As pretty as the main church can be, the truly breathtaking area is behind what is known as the dividing wall.
You see, San Maurizio al Monastero Maggiore takes its name because it is an ex-convent. The most important Benedictine convent in Milan, in fact (e.g. Monastro Maggiore). And the nuns did not simply waltz into the church to partake in mass with the, well, masses.
Instead, they listened to mass and provided the music for the service while completely hidden from view.
They couldn't enjoy the artwork in the main church – but trust me, the Hall of the Nuns is even better.
Better than better – it is spectacular.
I can only imagine what it would have been like to enjoy these incredible walls, and reflect on faith and on life while cloistered away from the world.
And on a lighter note, I truly loved that this artist imagined unicorns heading on to Noah's arc.  (But if they were saved from the flood, I wonder what happened to them afterward).
San Maurizio al Monastero Maggiore truly is like the Sistine Chapel in Milan, without the crowds that you usually find at the Vatican Museums.
Best of all – it is completely free. It is often used to host concerts, as well.
I visited the church with Doing Italy, who is a Milan (and Northern Italy) expert! I loved discovering this hidden gem with her. Planning to visit yourself? Here is how to get from Malpensa Airport to Milan.
San Maurizio al Monastero Maggiore
Corso Magenta, 15
Milan, Italy
Open: Tuesday – Sunday from 9:30 am – 7:30 pm. Closed Monday.