It usually pays to have friends with excellent taste, because they will often lead you to secretly amazing spots. Case in point: Eitch Borromini hotel and its stunning terrace.
Because my friends were staying there, I got a sneak peek at the rooftop in April before it opened for the season. I could already tell that I would need to go back because it is truly one of the best rooftop bars in Rome.
Sipping a drink on the terrace makes you feel like you are on a Roman movie set. The vibe is apt because Eitch Borromini's bar is named 'La Grande Bellezza,' after Paolo Sorrentino's Oscar-award winning film of the same name.
The hotel is located inside a wing of Palazzo Pamphilj on Piazza Navona. (Yes, that is the same noble family that is associated with the Doria Pamphilj Gallery, so be prepared for grandeur).
Butted up against Sant'Agnese in Agone, the views from the bar are absolutely insane.
One direction overlooks Piazza Navona.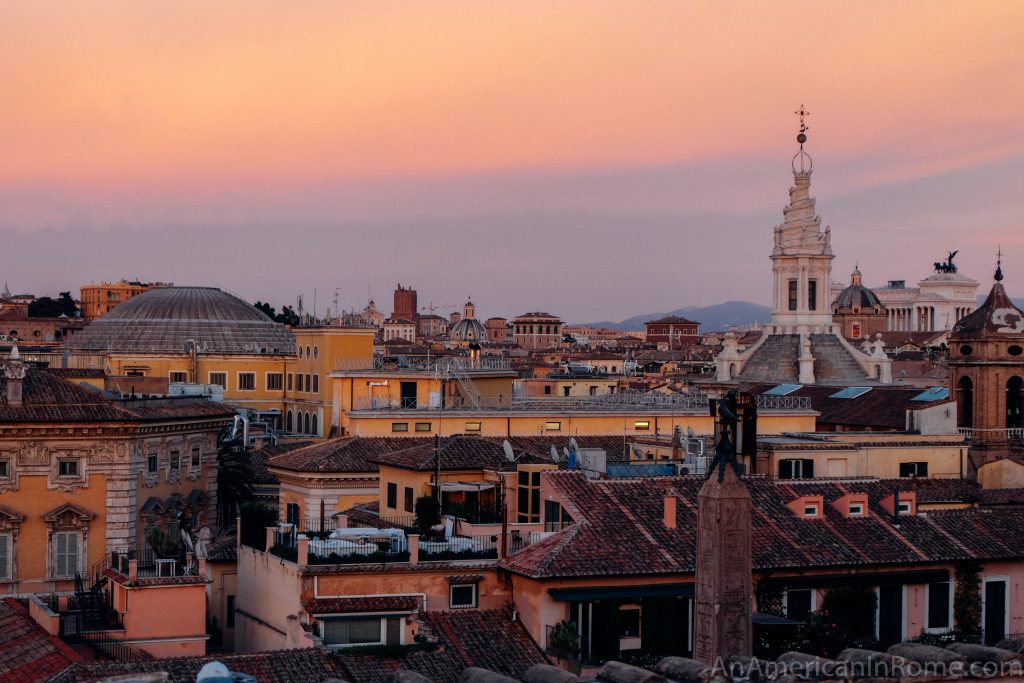 Another has views over the Pantheon.
You can also look out towards the Palace of Justice (Italian Supreme Court).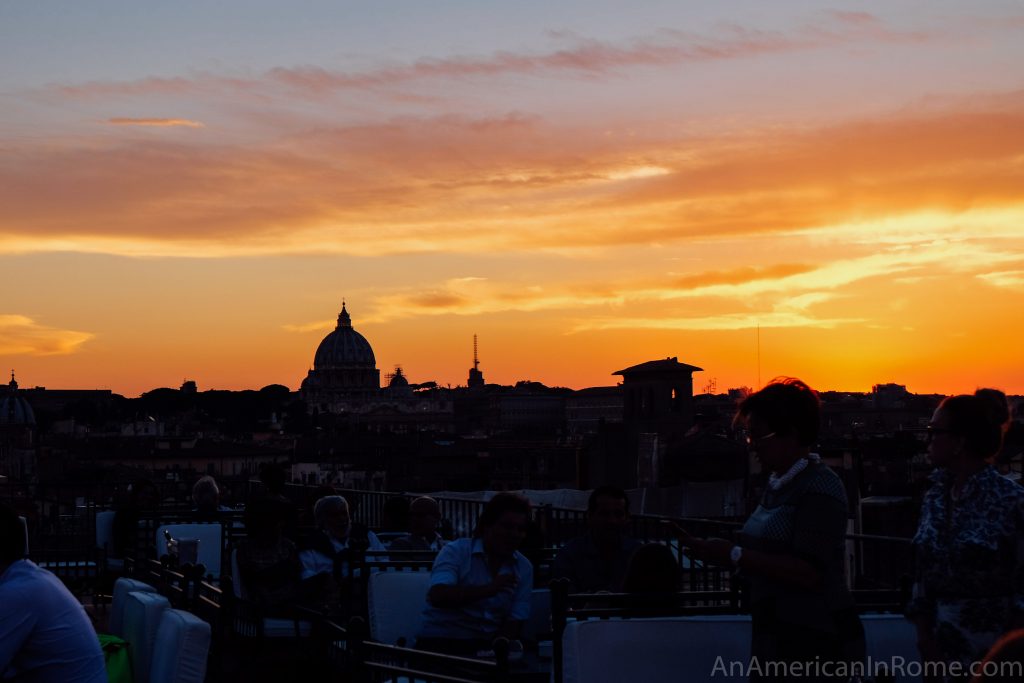 Or position yourself to watch the sun set over St. Peter's dome.
The terrace has true 360 degree views of Rome, that almost no other rooftop bar in the city can offer.
I MEAN, SERIOUSLY.
No one is immune to the jaw-dropping views. Patrons tend to wander around from side to side, snapping photos of the gorgeous skyline in between sips of their drinks.
And there is another amazing bonus – even though the terrace is seriously luxurious, the prices are totally acceptable.
Glasses of wine and prosecco range from €10-15, which is significantly less than other terraces bars in the area.
At aperitivo time, each drink also comes with a small snack – for example, risotto with seafood.
The bar opens every day at 6:30 pm, and it is obviously advisable to be there for sunset.
However, one thing to keep in mind is that there are no umbrellas. Not wanting to block the view, the bar is completely open. That means you might want a later reservation on hot summer days when the sun is still fairly high in the early evening.
The views are pinch-me dreamy, so go before the season ends.
Access to Eitch Borromini's La Grande Bellezza bar is strictly reservations only. Be sure to call ahead (+39 06 68215459) to book a space.
There is also a restaurant, so specify if you are booking a table there for a meal or on the terrace for drinks.
Or best of all, book a room to stay the night.