If you are planning to spend Christmas in Rome, you are in for a treat. The city is absolutely beautiful during Christmastime. The winter holidays are traditionally a time to spend for Italians to spend with family – and a time to eat.
So what exactly should you be on the lookout for when you are in Rome in December? I've put together a list of exactly what to eat in Rome at Christmas.
What to Eat in Rome at Christmas
Sweets: Christmas Cake and Torrone
December may be chilly but it is certainly sweet! Christmas in Rome is really all about the desserts. Step into any supermarket and you are guaranteed to find mountains of boxed panettone and pandoro. These Italian Christmas cakes originated further north but are a holiday staple in Rome. For a truly excellent version, pick up a whole cake at Forno Roscioli or Pasticceria Barberini. You can expect these artisan cakes to be significantly tastier and significantly more expensive (around €30) than their mass-produced counterparts. Once you are full of pandoro, take an even sweeter detour with a slice of torrone – a christmas-y nougat that also appears in many pastry shops in December. But to eat a truly Roman version of the cake, be on the lookout for pangiallo. Even though it is Rome's Christmas cake, it really is not as common as the better known Milanese panettone, but you can find it during this season at Panificio Passi (Via Mastro Giorgio, 87).
Chestnut everything
I love walking through Rome at Christmastime with the smell of roasted chestnuts floating through the air. You will find hot roasted chestnuts for sale on many corners in the historic center, but you can also find the seasonal ingredient incorporated into cakes and even pasta. Even though it is traditionally thought of as Tuscan, you can find castagnaccio (chestnut flour cake) at Bar Foschi in Garbatella (Piazza Bartolomeo Romano, 3), and I still dream about the ravioli made with chestnut flour that Carla taught us to create at the Market-to-Table cooking class.
Seafood
The Feast of the Seven Fishes seems to be more of an Italian-American tradition than a straight Italian one, but it is still traditional to eat seafood in Rome on Christmas. This is likely due to the influence of the Catholic Church, which traditionally decrees abstaining from meat (fowl and legged animals) on major religious holidays, as well as on Fridays in general. It is common to eat fish or even grilled eel on Christmas Eve in Rome (remember, Rome is quite close to the coast, and usually gets the best local seafood from around Ponza or from near Gaeta – just south of the city). Some restaurants host special menus for the large meal evening meal so it is always a good idea to reserve a table somewhere to a) confirm they will be open and b) ensure that you are going to get in. I recommend La Torricella in Testaccio, a local but refined trattoria that specializes in seafood all year round.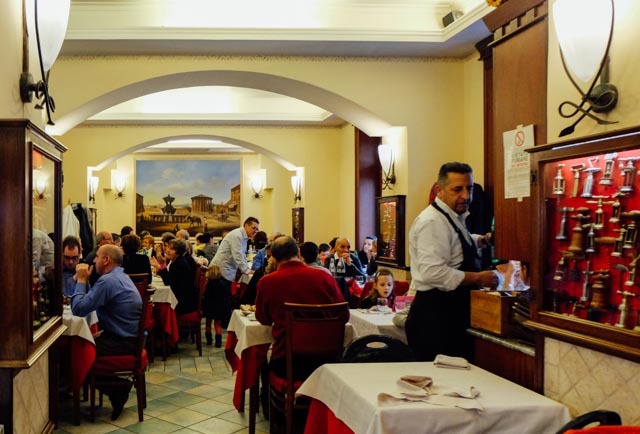 Meat and hearty pasta
After "abstaining" the night before, Christmas day is about the meat and not the seafood. One dish that is traditional in Rome on Christmas is roast lamb, but in practice, it is much more common to eat decadent pasta dishes which originally hail from northern Italy. Even Romans will dig into a steaming bowl of tortellini in brodo (meat-filled pasta from Emilia-Romagna in a light capon broth), or head over to nonna's house for a labor-intensive lasagna. Roman pasta is usually flavored with a bit of guanciale (bacon), but these winter-ready pastas are brimming with a hearty serving of meat and topped with Parmigiano Reggiano cheese.
Lentils: Cotechino e lenticchie
Cotechino e lenticchie is technically really a food to eat a week after Christmas on New Year's eve but the festive dish starts to make an appearance on tables throughout December. Lentils are thought to bring good luck in the new year, particularly when it comes to your bank account. This is because the small round legumes resemble teeny tiny coins. In Rome, and in many parts of Italy, lentils are served with cotechino – a kind of fatty sausage. To go real traditional, look out for zampone – which is cotechino stuffed inside a pork trotter. Not into trotter? Then plan to order pasta e lenticchie, which is small pasta mixed with lentils… but usually still flavored with a bit of guanciale so vegetarians beware.