I was born and raised in a beach town so even though Rome is the European capital closest to an ocean, I still feel landlocked sometimes. Luckily, there are some incredible beaches within reach but to see the best of all, you need to take a day trip to Ponza.
Ponza is a little island off the coast of Lazio, the region where Rome is located. Getting there usually requires a bit of time, a train and a boat ride but we were able to do it all comfortably in a day with Itertours.
Michele, who runs Itertours, spent his childhood Italian island hopping and knows exactly how to find the best spots with limited time. That means its possible to leave Rome in the morning and find yourself swimming in some of the most beautiful aquamarine water I have ever seen before lunch.
For our day trip to Ponza, we met up around 7 am to hop in a private car to Anzio to catch the first ferry to the pretty island.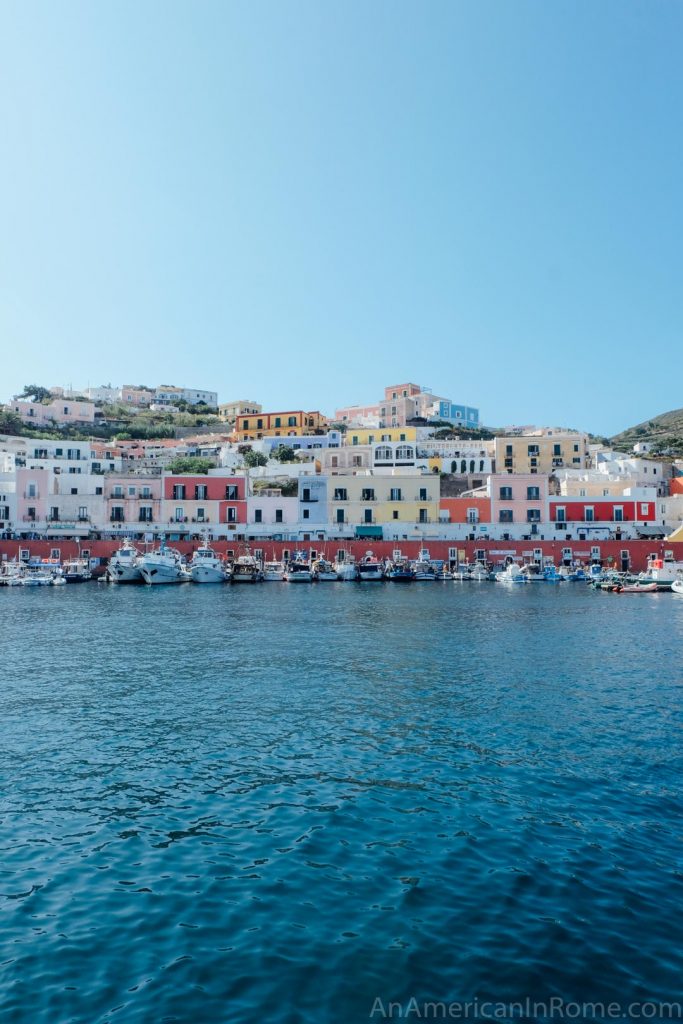 We had time for a quick stroll through the port area and grabbed a coffee before stepping aboard the smaller boat that would take us day cruising to various swimming areas for the next several hours.
Ponza is one of Italy's best-kept island secrets. Naturally, the Romans know about Ponza but the island has remained relatively undiscovered by others.
Skimming along the edge of the island and admiring the natural rock formations the rise out of the aquamarine water, I was really kicking myself for never having made the trip to Ponza before. While Ischia has the thermal pools and Procida has its fishing village charm, Ponza is pure beauty.
As soon as our boat stopped, I was in the water. It was irresistible.
Unfortunately, the open ocean was a bit too rough to make the crossing to the nearby island of Palmarola, but that simply gave us more time to explore Ponza, snorkle, and even to swim under the natural stone arch.
We had a pasta lunch onboard the boat, while Michele told us more about the history of the island. The free-flowing white wine was an added bonus.
When the gelato boat cruised by, we flagged him down to buy dessert.
I mean, is there anything more perfect than a floating bar?
After a few more dips in the crystalline water, we wrapped up and cruised back to our starting point.
We bid goodbye to our day boat and had a quick look around the sweet pastel buildings of the port before catching the ferry back to Anzio. The car that Itertours arranged was ready and waiting so we zipped back to Rome in time to grab a drink with a visiting friend.
Ponza is not exactly difficult to reach, but it also isn't easy due to the distance from Rome and the schedules of the trains/ferries. If you only have time for a day trip, the tour is a fantastic option because all of the logistics are taken care of. (Plus, Michele is great company and truly knowledgeable about everything from Roman history to secret beaches).
Naturally, I am already planning our return next summer.
We were guests of Itertours, but I only ever write about experiences that I have personally tried, loved, and wholeheartedly recommend.