It is easy to miss the entrance to Al Vino Al Vino… which might be because I am always distracted by the view of the Colosseum at the end of the street.
But when you do find it, the unassuming door on Via del Serpente leads into an equally unpretentious wine bar.
Caponata made by the owner's mother. Locals at the bar. Football on a small screen behind the cash register. This is no-frills wine bar free from attitude and artifice.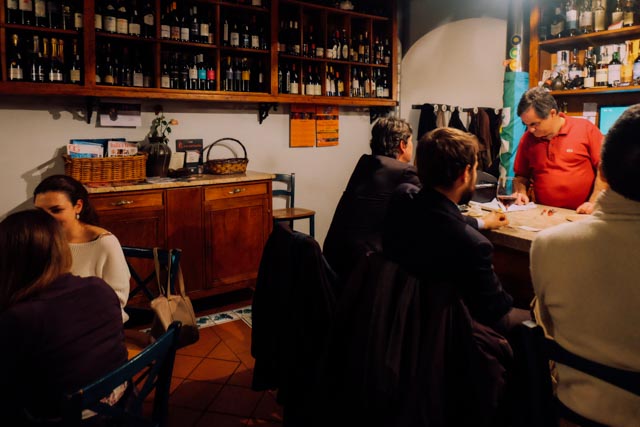 A football match will likely be flickering on the small screen behind the counter.
It is a warm space, popular with Monti locals for its no frills approach to good Italian wine.
Free from attitude and artifice, Al Vino  Al Vino offers 4 to 5 sparkling, white and red wines by the glass every day.
If you are with a group, or just have plenty of time to kill, the selection of wines by the bottle is equally impressive.
But the main draw (for me) is the sweet and sour eggplant caponata that is made daily. The jar is kept behind the counter and will likely sell out, so you should arrive in time to partake.
Cheese and salami selections will also balance out all the wine imbibing you will (should) do here.
The lack of attitude, the location, the wine list and the small plates available easily make this one of the best wine bars in Rome.
Al Vino Al Vino
Via dei Serpenti, 19,
00184 Roma, Italy
Phone: +39 06 485803
Open: Every day from 10 am – 2 pm, and 6 pm – midnight.