The Cliffs of Moher are Ireland's most popular natural attraction, and you certainly start to feel that while waiting for a spot in the car park.
Once you have maneuvered a parking space, crossed the road, and passed the gift shops, you can finally begin your hike up the cliffs.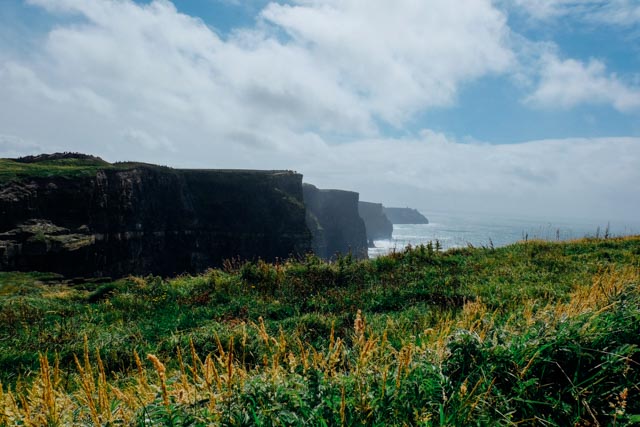 It does not take long to catch sight of the view and realize that the crowds were right to come.
Steep drop offs, rolling hills, castle towers– what is not to love?
For some reason, I had no idea this was an actual hike. The paths are well worn, but even my booties with a low heel were inappropriate for the walk, especially since you want to feel well grounded in the the high wind gusts next to a 700 foot (214m) drop off.
It seems only fair to be greeted by such intensity after surviving a drive on the Wild Atlantic Way.  Coming from California, land of 10-lane highways, I was not exactly relaxed driving on the left down roads that seemed barely large enough for a single car, let alone oncoming traffic!
We lucked out at has very little rain during our visit, but the paths can be muddy from previous showers. We followed most of the crowd and climbed over the flagstone guardrail, only to almost instantly regret it.
The massive cliffs are awe inspiring and we had no real desire to be that close to the edge when the wind picked up.
Usually when we visit Ireland, we spend time with family, so it was fantastic to take a short day trip (manageable from Galway and back in the same day) and explore a new county.  Though… I am not in any real rush to drive on Irish roads again soon.