Food tours are a great way to discover the unique Italian cuisine in Rome, learn about the history of the dishes, and explore some of the most interesting neighborhoods in the Eternal City. One of the best companies to explore it was the first company to really start leading edible days out in Rome: Eating Europe Italy Food Tours.
Are you planning a trip to Rome? Lemme tell you how it's going to be:
It's going to be awesome. You will see beautiful sites, you will hear beautiful language and classical music, and you will eat some good meals. Some.
That's because you will inevitably wind up in at a place that looked good from the outside, but then delivered the dreaded tourist menu.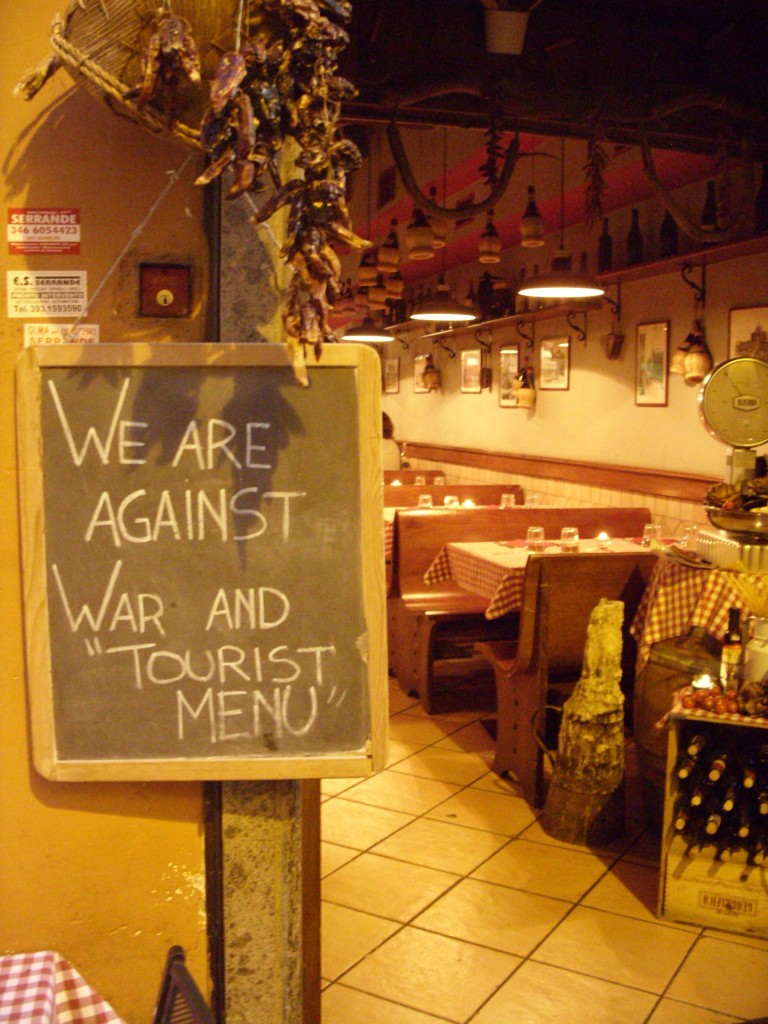 Kenny and his guides are here to help.
I went on the Taste of Testaccio Tour after living in Rome for years and I not only learned things, but I ate other delicious things, and also had one of the most fun days out. It was a tasty day which kept us reminiscing about the delicious foods in Testaccio for weeks afterward. (Updated in 2019: This tour was one of our first introductions to the neighborhood — which we have now LIVED IN for over six years. Watch out: it is so delicious that you might end up moving here yourself).
I took the Testaccio food tour with Kenny, the founder of Eating Europe. The Taste of Testaccio food tour will take you on a tour of one of Rome's quintessential eating neighborhoods. I'm going to date myself, but we saw the old market before it moved to Nuovo Mercato Testaccio.
These days, the market is in an all-new location and looks a bit more like this:
However, all of the tradition is still there. And if it is possible – the food has gotten even better.
We started with cheese. Cheese. Cheese is the way to my heart. Our food tour was about sampling both Parmigiano Reggiano and Pecorino Romano, with a bit of mozzarella thrown in. Smiling Enzo and Lina (who I still shop with when I need cheese for home), served up the delicious little bites.
A man who knows his tomatoes? That doesn't hurt one bit either! We tried all the fresh, seasonal treats purchased directly for a market still as part of the Testaccio food tour, too!
I won't give away all of the secrets but after the market, and a stroll around town, we stopped for supplì ::swoon::
The something sweet from one of my favorite bakeries in Testaccio:
AND something savory…
After exploring a foodie paradise known as Volpetti:
After all of these incredible samples, it was finally time to really eat. Lunchtime might very well be my favorite time of day.
If you are thinking: I couldn't possibly eat that much! I respectfully disagree.
This is just a taste of a very tasty tour. There's much more to the Testaccio food tour because you get everything from history to entertainment to eats. And eat you will. This tour easily replaces lunch so the price goes towards that – and then you can see if you recover enough for dinner!
It is a great way to try lots of traditional dishes, and get an idea of how to really shop and eat like a Roman.
You can book your own Taste of Testaccio Tour here!
Please note: this post may include affiliate links which means that I may earn a small commission if you choose to book. I only ever recommend things to do that I have personally tried and loved. You can read more about that here.