After 10 years in Rome (!), it had never occurred to me to eat in Piazza Navona. The restaurants which line the sides of one of the most beautiful squares in Rome are notorious for serving subpar food at high prices. In short, they are tourist traps. However, that has changed now that a new generation has taken over the historic Camillo restaurant in Piazza Navona.
The health emergency and the lack of tourists is what finally prompted the change, but Tommaso and Filippo have been trying to update their family's restaurant for years. The building on Piazza Navona was purchased by their great-great-grandfather in 1890.
The table cloths, tourist menus, and bowtied waiters are gone. Camillo has been transformed into a spot for locals and visitors alike to simply enjoy the city. Sitting and looking out at Bernini's Fountain of the Four Rivers, you can savor the modern menu while drinking in Rome.
The setting is obviously stunning, but we were so happy to find that the food is excellent as well. The burgers on homemade potato buns were so delicious that I actually ordered a second one because I felt cheated that my husband wanted to "share" so many bites of mine. (His BBQ rib sandwich was also great, but the burgers – wow).
At just €6.50 for a burger loaded with toppings, ordering a second was completely affordable. If you would prefer to stick to aperitivo, Camillo offers cute bento boxes with cheese, vegetables, salami, and other small nibbles. We actually ordered this for our toddler to enjoy.
In addition to pastas (the Roman classics, plus Italian takes on summer Ramen), there is a list of creative fritti on the menu, including breaded and fried lasagna.
The drinks are also very reasonably priced given the location and a glass of prosecco only set me back €4. They do a brisk business in spritzes, but there is also a custom cocktail menu to choose from.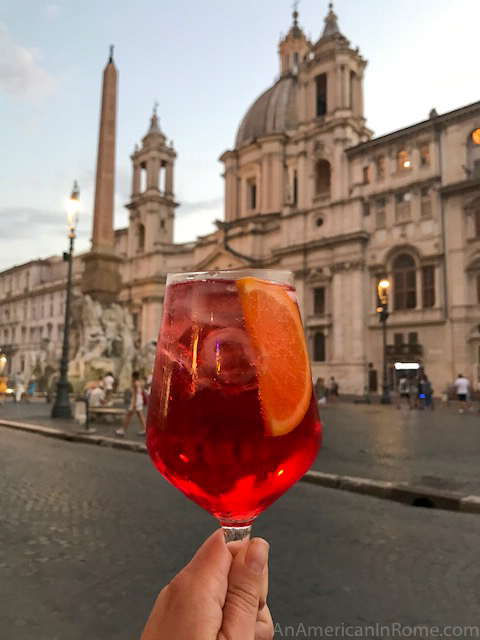 The casual feel and friendly staff make it feel miles removed from the stuffier restaurant options that are more typical in the area.
I spotted Camillo right away because of its more contemporary outdoor seating (which was filled with young Romans). The new project to transform the family restaurant was a bit of a summer experiment. It is going so well that the rollout to modernize is continuing after a short Ferragosto break. Camillo will be closed from 13 – 23 August 2020, and will reopen with new decor on August 24th.
We will certainly be back to check out how it continues to evolve and to enjoy more sunset drinks on Piazza Navona.
(Hat tip to Rachel and Gillian, whose posts about Camillo earlier this summer are what made me want to go!)
Camillo
Piazza Navona 79
Rome, Italy
06 5655 8161
Open every day from 11 am to 2 am