It can be intimidating to pre book a taxi in Rome if you don't speak Italian, but luckily it is totally possible to book a car in advance via app, website, or by phone.
First things first: a taxi to or from a Rome airport is a fixed price. As long as you are leaving from or going to the center of Rome, you will pay a flat rate of €30 for Ciampino Aiport or €48 for Fiumicino Airport.
How to Pre Book a Taxi
If you are flying into one of Rome's airports and want to pre book a taxi, then you can do that online with Welcome Pickups at just about any time. There is also a taxi stand outside of baggage claim and there is not usually a long wait so reserving a taxi in advance is not necessary.
However, please make sure you have either reserved online and paid in advance or that you go directly to the official taxi stand. Do not follow anyone inside the airport terminal who promises to take you to a taxi. This is a scam and you will be charged more than double the official rate.
You can also pre book a taxi from Rome back to the airport. We always use Welcome Pickups because the price is the same set taxi rate and the driver is confirmed in advance. You get an email with their name and phone number so you know exactly who is coming to get you, and they know exactly where to take you.
This kind of pick up requires you reserve more than 24 hours in advance. Other pre booking options are the direct opposite- you absolutely can pre book a taxi in Rome, but you can usually only do so a maximum of 24 hours in advance.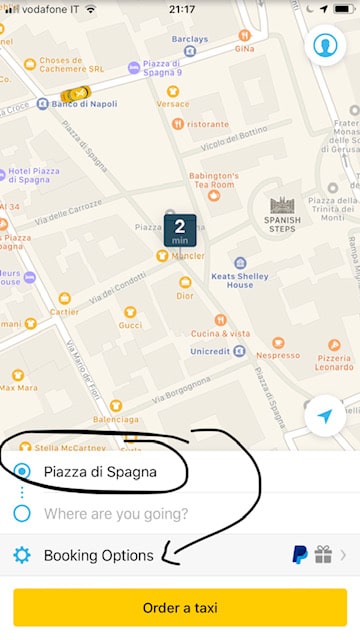 Recently, the app FreeNow rolled out a feature that allows you to book up to four 4 days in advance. Simply put in your pick up location and then click on booking options to set the pickup time. The only drawback is that your driver might not be confirmed until 15 minutes before that pickup time. This might not be a problem, but if you need to be picked up at 3 am, you might want to have a backup option just in case no one confirms. (You can use the promo code Z8MIR5ROH for €5 off in the app).
You can also call a Rome taxi company to pre book a day in advance. The largest company is 06 3570 (that is the entire phone number, but add +39 to the beginning if you are calling from an international phone). Be prepared to speak at least a little Italian when you call. This is your best option for pre-booking to anywhere that is not the airport. (For example, if you need an early taxi to get to the train station).
Do I Need to Pre Book a Taxi in Rome?
Keep in mind that you don't have to pre book a taxi in Rome. Taxis are available 24 hours a day by phone, though in the wee hours of the morning you might have more difficulty finding one at a taxi stand if you are wandering around. In a pinch, you can also use Uber in Rome. The car service has only black town cars and it is usually pretty easy to find one at any time of day if you already have the app installed for use in your home city.