Towering Pandoro and Panettone cakes may reign supreme in Italy at Christmas, but Easter is all about the sweet known as Colomba di Pasqua.
The cake takes its name from its shape – baked in the form of a dove, or colomba in Italian. The symbol of peace, as well as a sign of spring, the dove shape is also the cake's main association with the Easter holiday.
Traditionally, colomba dough is made with butter, eggs, yeast, and sugar, and is allowed to rise for more than 24 hours, until it has doubled in size. The cake is sometimes studded with candied fruits, then baked in a paper mold in the curving shape of a dove. This beloved Easter sweet takes on an airy, bread-like quality as it bakes, and is then topped with sweet almonds and pearl sugar.
While Italian home cooks rarely shy away from labor-intensive dishes, colomba is the exception to the rule and is almost always purchased rather than cooked at home. In spring, diehard Rome foodies set out on a quest to find the best artisan versions in pastry shops around the city in order to enjoy a slice of the sweet Easter cake over morning coffee or as a celebratory dessert after dinner.
Ready for a piece? Here are some places to try colomba before it disappears off the bakery shelves for another year. (And even have it delivered to the other side of the world for your own Italian Easter abroad).
If you are going to eat Colomba for Easter, it makes sense to get the very best. Olivieri 1882 was awarded Top Colomba in Italy by the Gambero Rosso food guide in 2019. The historic bakery is based in Vicenza but ships internationally so you can order your colomba to be delivered straight to your Easter celebration wherever you are in Italy or the world. One bite and it is immediately clear why their version of the Italian cake has won so many accolades – the glaze gives the top just the right amount of crunch to contrast with the perfectly pillowy cake beneath. Cutting into the colomba is incredible because of just how brilliantly yellow the batter is. You might notice some tiny black specks of Tahitian vanilla, as well. The bakery's classic colomba is delicious, but you can also mix things up with a white chocolate and berry version, or a decadent three chocolate Easter cake.
In 2021, order by April 7 to for the last bake before the colomba season closes.
Stepping into Antico Forno Roscioli means submitting to the energy. The large bakery between the Jewish Ghetto and Campo de' Fiori is always buzzing with hungry customers who scan behind the curved glass counter to select their favorite sweet and savory treats. The forno is most beloved for its pizza al taglio (pizza by the slice) but it's seasonal baked goods are also legendary across the city. In the weeks before Easter every year, the bakery turns to colomba, allowing the dough to rise in the kitchen for 24 hours in order to bake an airy version of the dove-shaped cake. The windows, crowded with tempting back goods, are stacked high with the light, sweet cake, which can be wrapped up like a gift and tied with a ribbon in order to port it back home to be savored over a slow cup of coffee.
Delivery options are available.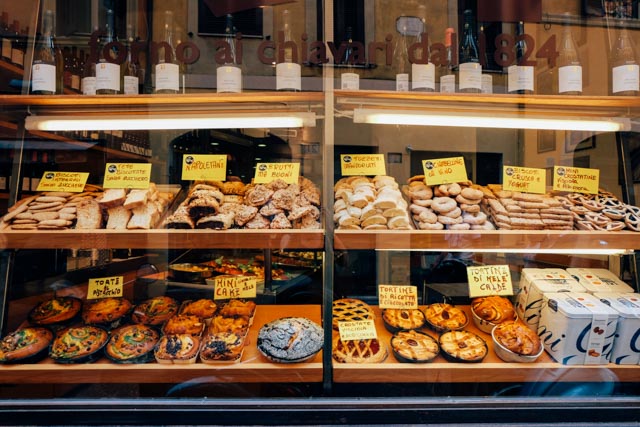 Pastry chef Andrea de Bellis started his career as a policeman but found he could not resist the siren call of sweets so he gave up his uniform for an apron. The talented pastry maker moved to France and Spain to hone his craft under some of the world's great chefs, including Ferran Adrià, before opening his own confectionary wonderland in the heart of Rome in 2013. The desserts in this tiny jewel-box of a shop are as pretty as they are delicious, with French-inspired tarts sharing shelf space with traditional Italian cakes. Come in the morning for the pain au chocolat, or stop by in the evening for a tarte au citron. In the weeks before Easter, however, the artisan colomba di Pasqua tops the must-eat list. The traditional cake is topped with almonds and pearl sugar, and makes for an indulgent way to celebrate the Italian holiday. For an even bigger sugar fix, order a white chocolate Easter egg sprinkled with gold dust to enjoy alongside Italy's favorite springtime cake.
Delivery options are normally available from Cosaporto.it
Pastry is raised to an art form at this contemporary Pasticceria in the Parioli area of Rome. The award-winning pastry shop has adopted a serious approach to confectionaries, with the owner studying pastry-making under Italy's most celebrated sweet-makers before setting out alone. A huge selection of tantalizing pastries twinkle in glass displays inside the cheery shop, but during the spring season, customers have only colomba di pasqua on the brain. While most bakeries offer the traditional high-rising cake topped with almonds and sugar, Gruè creates sensational flavor combinations for their dove-shaped treats. Stop in for a chocolate version with candied ginger, or get adventurous with the candied apple colomba with raspberry and yuzu chocolate.
Note: During the 2020 health crisis, many bakeries around Italy are delivering. You can also order Colomba from Pasticceria Barberini, for example.
Featured photo: Colomba by Olivieri 1882