I have always wanted to visit Rome's Holy Stairs.
The Scala Sancta, across from San Giovanni in Laterano, caught my eye in La Grande Bellezza
– a stunning visual homage to Rome.
Cinematic placement is great, but I knew I wanted to see the stairs before I saw the movie.
I have been meaning to visit for quite some time, because the story behind the holy stairs is so compelling. Here's why I think they deserve a place on your Rome bucket list as well:
Scala Sancta (Holy Stairs)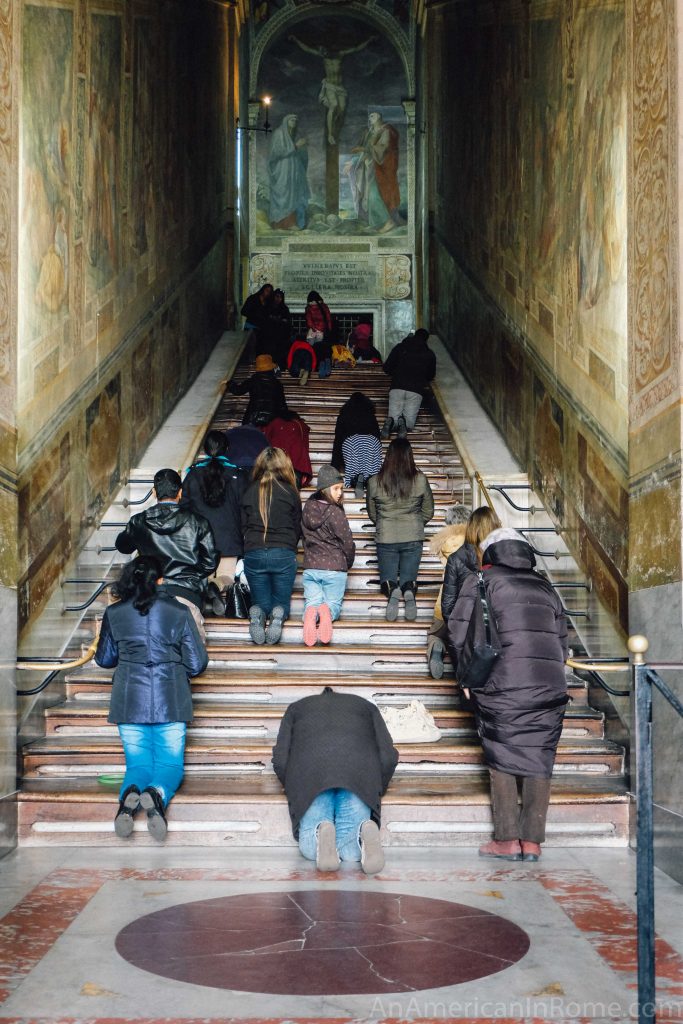 The Scala Sancta are holy because they are said to be the stairs that Jesus climbed on his way to his trial before Pontius Pilate (or the events that are also known as the Passion of Christ).
The stairs were brought to Rome by Saint Helena in the 4th century.
Today, the 28 steps are owned by the Vatican and free to visit. They are covered in wood to protect the marble. But in April 2019, they were uncovered following a lengthy restoration, with the bare marble showing through for 60 days.
This seems like the appropriate time to let you know that I have a deep respect for faith, but that I am not religious myself.
The holy stairs are a major point of pilgrimage for many in the Christian faith.
I was there to visit the Scala Sancta, but the faithful are there not only to visit but to climb the steps.
And the 28 stairs can only be climbed on your knees.
Climbing the holy stairs is an act of devotion. One that is performed with such silence and focus that I was humbled to watch it. Many people will also stop and kiss points on the steps where glass reveals what is said to be drops of Christ's blood.
Visiting the Holy Stairs
You don't have to perform this act of devotion in order to visit. Another beautiful staircase runs parallel to the Scala Sancta.
Intricate frescoes and colored marble create a setting of unreal ascension as you climb to the church at the stop of the staircase. Off the modern day church is the Sancta Sanctorum – one of the holiest sanctuaries in Christianity.
While the holy stairs are free to visit, entrance to the Sancta Sanctorum must be booked ahead.
I was awed by both the holy stairs and the gorgeous reliefs of the more "common" staircase.
However, the Scala Sancta are not without their critics. Martin Luther supposedly ran away from the stairs in shame. He said it made him realize the fallacy of the papacy.
Charles Dickens was a bit more direct, claiming: "I never, in my life, saw anything at once so ridiculous and so unpleasant as this sight."
I suggest a visit to decide for yourself.
Scala Sancta (Holy Stairs)
Piazza di San Giovanni in Laterano, 14
00185 Roma
Open Monday – Saturday from 6:30 am – 6:30 pm. Sundays the stairs open at 7 am.