I was so excited to go to Sirmione that there is a very real risk I built the place up in my head.
With a gorgeous castle and a waterfront setting, it seemed like the perfect town to spend the day in along Lake Garda.
How to Get to Sirmione
Sirmione is found on a thin peninsula that juts out into Lake Garda, near the border of Lombardy and Veneto.
With a starting point of Brescia, we took the regional Trenord train to Desenzano del Garda for €3.30. A 15-minute walk downhill and we were at the port where we spent another €3 each on ferry tickets, which can be purchased on the spot for a boat that leaves about every hour.
When you are done seeing Sirmione, there is a ferry back to Desenzano nearly every hour. The beautiful 10-minute boat trip is a steal at €3 each way.
If you prefer, you can also take an organized tour from Verona or a trip from Milan that stops in Verona, both of which include all transportation.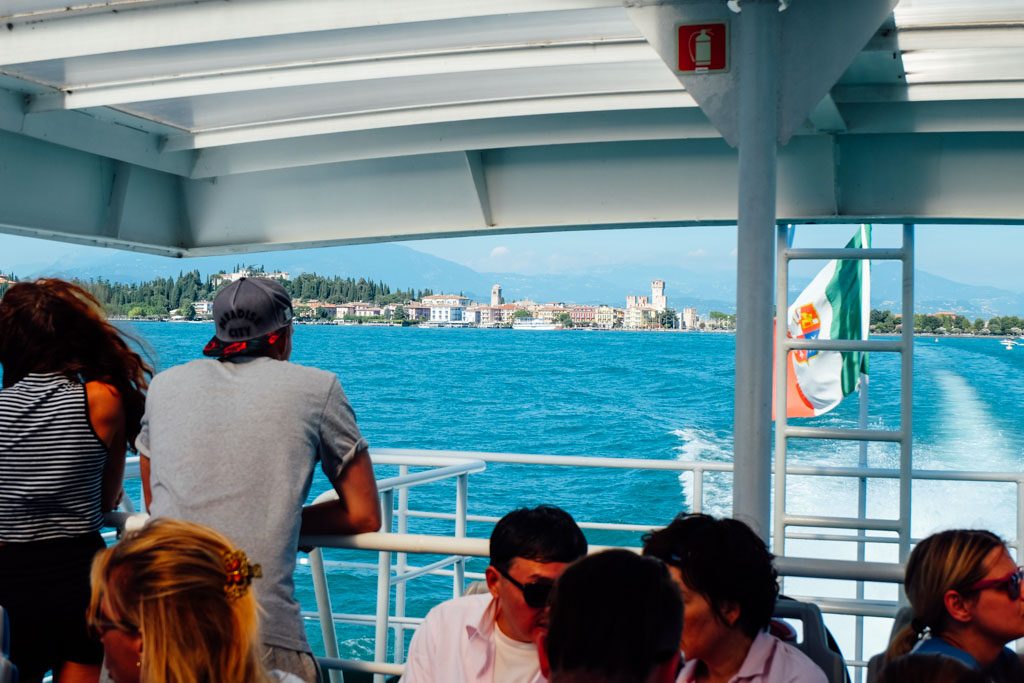 The castle! The water!
This was going to be good, I thought smugly.
Things to Do in Sirmione
Visit the Castle. Scaligero Castle is one of the best-preserved castles in Italy and it could not be found in a prettier place. The castle dates back to the 13th century and you can climb the tower for a beautiful view of the old town and the sparkling moat.
Admire the Grotte di Catullo. Located on the northernmost point of Sirmione, the Grottoes of Catullus are the ruins of a Roman villa. There is also a small museum with artifacts dating back 2,000 years.
Take a boat tour. For a unique and more private experience, see the castle, the Grottoes and the beaches of Sirmione from the water. You will start out at the main port and board a small motorboat for a tour around the peninsula. The boat will stop for a swim and take you to the village of Salò. With a glass of prosecco in hand, you can cruise back to Sirmione's old town in style after zipping around Lake Garda. If you are interested, it is best to book the boat tour in advance because it does sell out.
Go to Jamaica beach. This rocky beach near the end of Sirmione's peninsula is one of the best swimming spots in the area. You can arrive by boat or walk out, but be careful of slipping on hidden stones. The trip is worth it for the crystal water.

Slip into natural hot spring water. The waters of Lake Garda are perfect for a swim, but for real relaxation you should visit the natural hot water that Sirmione has been famous for since Roman times. The best place to experience the soothing warm water is at Aquaria.
Note that most beaches and all of the hot springs in Sirmione required paid entry.
Keep this all in mind when you are budgeting your trip. While it is easy and cheap to get to Sirmione, it may end costing you quite a lot if you want to do anything while you are there.
Sirmione is a huge day trip destination, so if you really want to experience the town at its best – you should stay overnight in order to avoid the tour groups.
Where to Stay in Sirmione
The best way to beat the crowds in Sirmione may very well be to join them. If you stay in Sirmione you will have the gorgeous waterfront setting all to yourself in the mornings and evenings, after the day trippers leave. Plus, because most of the hot springs are privately run, you can select a hotel with a thermal spring to enjoy a quieter spa day included in the price of your accommodation. Ready to go? Here is where to stay in Sirmione, Italy
We took our day trip to Sirmione on what is likely the busiest weekend of the year – during August's Ferragosto holiday.
The crowds were all there for the same reason that I had come – to experience a charming town on the shore of Lake Garda.
I was too overwhelmed by the number of visitors to really enjoy Sirmione itself so it is town best visited outside of the August peak.
So I ordered a Hugo and resigned myself to reading in the shade.
All in all, Sirmione is not a bad place to be with a drink and book in hand.
Note: This post may include affiliate links to products and services. If you choose to make a purchase, I may earn a small commission.