As a whole, I think that Italian candy is pretty terrible.
There are no good fruity candies. No skittles or starburst or equivalent.
And there are very few chocolate choices that do not include hazelnuts (which I despise).
However, then there is Pocket Coffee.
I love Pocket Coffee.
That day I found a Pocket Coffee vending machine? It was a good day.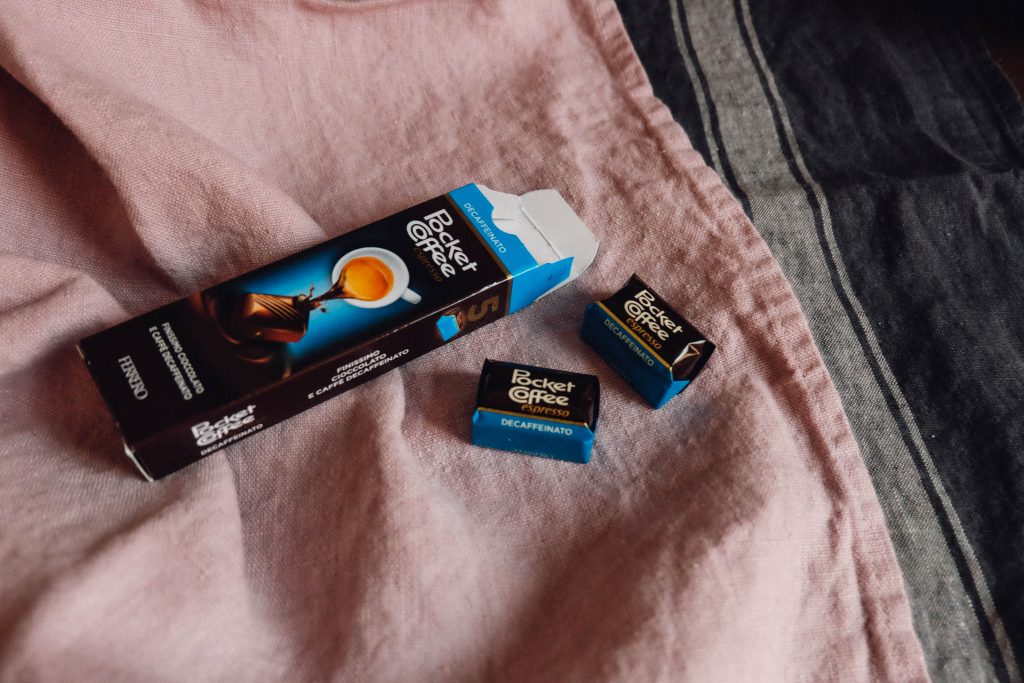 Just to recap: Coffee Pocket is a chocolate made by Ferrero that includes a shot of espresso in the center of the candy.  It's only available during the colder months, because otherwise it would melt and there would literally be coffee in everyone's pockets.
Real coffee!
But this year? They came up with decaffeinated Pocket Coffee.
Naturally, I bought it. (Mainly because it was an excuse to also buy regular Pocket Coffee for a taste test.)
All looks pretty standard here, decaf.
Then you gotta be reeeeeeeal careful when you bite it, so you don't dribble coffee (decaf or otherwise) all over yourself.
The Decaf Pocket Coffee is… different. It taste sweeter, without the bitterness of the coffee coming through as much. I can only assume that this is because decaf lovers are not diehard coffee lovers and prefer the sweet flavoring.
And yes, I really was drinking real coffee in between Pocket Coffees. How else would one cleanse their candy palate?
P.S. This is totally not an ad. I just really really like Pocket Coffee (and decaf Pocket Coffee as a distant second).