Trattoria dell'Omo is one of the weirdest places I have been in a long time, and I mean that in the best possible way.
Dell'Omo is about as authentic as they come.
The peachy panelling hasn't changed in decades, and the clearly Xeroxed menus make it feel like the management gave up on anything leather-bound long ago.
Dell'Omo is not a leather menu type of place.
We tried to make a reservation, but the phone only rang and rang. Instead, we risked our luck and arrived at 7:45 pm, shortly after they opened.
"Anto'!" yelled the waiter, "Where can I put two people?!"
We were placed in the front of the house, though there is also seating beyond the kitchen.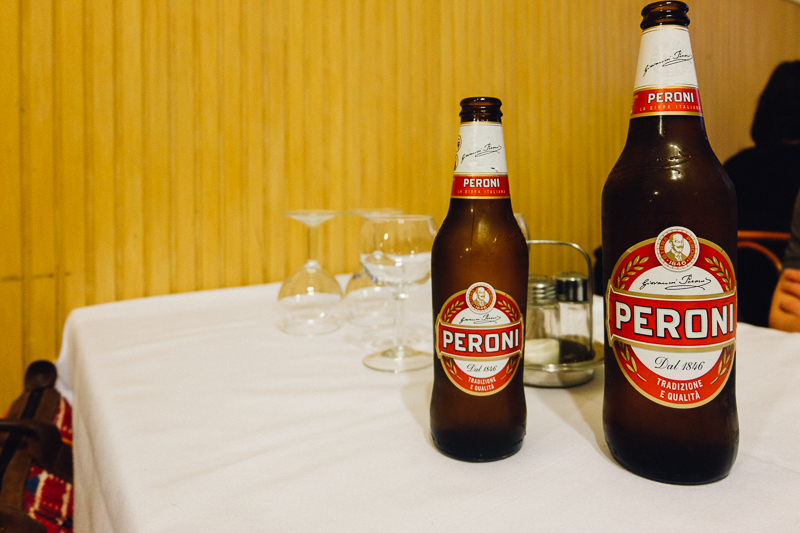 A big beer arrived for Jim, and a small for me.
The waiter opened them for us with my fork…
Excellent.
We finally ended up at dell'Omo because we had a train to catch at 9:15 pm.
Since the hosteria is a block from Termini, it was ideal for an early dinner.
The service was not exactly speedy, but since the food arrived at 8:30, we still had plenty of time to eat and amble down to the station.
I went home and laughed at the 1 star yelp review for service.
This is Rome.
In general, the service is disinterested at best.
At dell'Omo, the staff is small and more focused on making your gnocchi and homemade ravioli in the back.
Come for the food.
Hosteria dell'Omo is a classic, and it is up to you whether or not you are ready to embrace that.
When you decide to go, because you should decide to go, keep a keen eye out for it.
It would be easy to walk by the restaurant without thinking twice.  The address number "18" has been written on the wall with sharpie.
Trattoria dell'Omo
Via Vicenza, 18
Rome, Italy
Phone: + 39 06 490411
Open: Everday from 12 pm – 3 pm for lunch; and 7:30 pm – 10:45 pm for dinner