Visiting Civita di Bagnoregio was a longtime goal of mine because I wanted to see the place that is known as the dying town – perched on a cliff, and in danger of tumbling off.
I take full responsibility for throwing the road trip completely off track.
First, I recommended we pick on the rental car from Fiumicino because then we would be halfway out of Rome already.  As you might be able to guess, that turned into a total cluster, and after a significant delay we ended up with a massive van instead of large SUV.
Second, once we piled into the van, with a row of space per person, I decided unilaterally that we would continue on to Civita di Bagnoregio instead of our pre-agreed Tuscan destination. Why? Because I wanted to and sometimes, when it comes to travel, I get a tiny bit bossy.  (I like to think it is 'assertive,' but no, it's plain bossy).
So we drove those tiny Italian roads in that big ole 12-passenger van, and the 5 of us made it just fine.  (And by "we," I mean the sole boy in the group did all the frustrating driving).
It was totally worth it, because once we abandoned the car and continued on foot, we came around the bend to this:
This perfectly magical medieval village.
We took some moments to savor the view, but all of that sitting at Fiumicino and then sitting in the car, meant that the first order of business was finding a toilet.  We stopped at a trattoria just before the bridge that leads into the city, and arranged to come back for lunch after touring town.  The restaurant gave us a postcard for free admittance to the city, and we strolled through the gate.
If you don't get a free pass, don't worry, the daily entrance fee is fair considering that the aim to conserve a city that might otherwise fall into disrepair and then literally fall to the valley floor. The 3 euro tax pays for urgent repairs.
The pedestrian bridge is the only access to the village, which hosts a population of 100 in the summer and a mere 12 during the winter.  Small, but still an increase over the grand total of ZERO that lived there after the town was hit by an earthquake in the middle ages and the homes made of tufa (limestone) rock began sliding off the side of the hill.
I ushered my jetlagged American friends through town, all collectively oohing and ahhing over just how picturesque it all was.  Founded almost 2,500 years ago, it became known as the "dying town" (il paese che muore) when it was left empty.  However, this abandonment has done wonders for preserving the gem of a place.  The crowds were tolerable and the alleyways begging to be explored. I do not think I have ever taken quite so many pictures of cute doorways at any one time.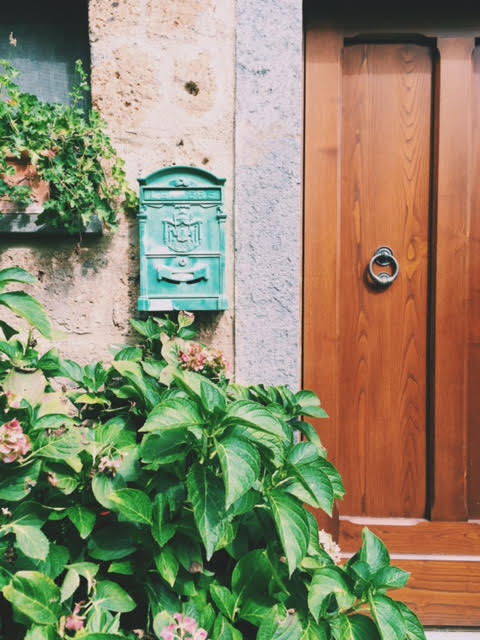 After a jaunt around the tiny hilltop town, we luckily stumbled upon Osteria al Forno di Agnese. After a look at the menu, decided to try to charm our way in with no reservation rather than hike back down the hill to eat.  We got lucky and were promptly given the last available table.
The town is tiny, so apart from where to eat, I have very few suggestions other than to tell you to wander and enjoy the view.
We made it back across the bridge, up the stairs to the modern town, and into the van to continue the journey to Tuscany, happy, full and excited to have explored this little previously abandoned corner of Lazio.  It has a very different vibe from Calcata, but is just as scenic and arguably easier to get to.
So while I would like the moral of this story to be about how I am always right, the real point of the post is to encourage you to take a day trip to Civita di Bagnoregio. The trip is easiest by car (it is about 100 km outside of Rome).
Alternately, you can take the train to Orvieto and then a Cotral bus from Orvieto to Civita Bagnoregio.
OR, best of all, you can actually stay in a few rental apartments even though the town has virtually no full-time residents. These are the accommodation options in Civita di Bagnoregio. (Careful when booking to be sure that it is the Civita, and not simply "Bagnoregio," which is the more modern town nearby).
*Please note that if you choose to book a hotel, I might receive a small commission but you are under no obligation to do so!