Let me start out by saying that most people would not try to do Pisa in one day from Rome.  Luckily, we are not most people and were crazy enough to catch the 6:15 am Sunday train to Pisa.
One good thing about taking a four-hour train ride at 6:15 on Sunday morning is that no one else does, so we were able to catch some Z's and arrived feeling pretty refreshed.
The fact that Pisa is pretty cute and we serendipitously stumbled upon a mercato, also helped soothe over the early morning start.
Not in need of any clothes or shoes? Well how about a nice porchetta sandwich to start the morning off right?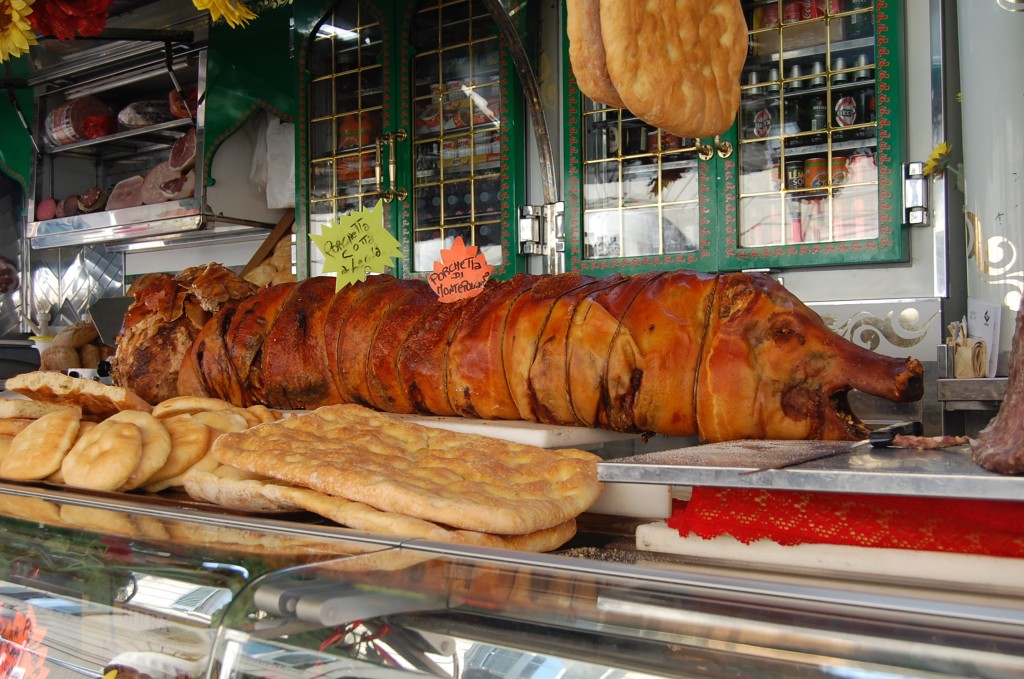 After a quick panino, we set off for Palazzo Blu… see if you can spot it:
We were in Pisa to see the Picasso exhibit being hosted there, but along the way, I managed to get distracted by an adorable little church.
And then the name of the street that runs along Palazzo Blu gave me pause:
The exhibit was ok.  We were a little disappointed that there were so many lithographs and so few paintings, but I thought it was well curated.
After being artsy, it was time to be touristy.  I mean, c'mon, it is pretty silly looking:
But it can look pretty straight if you get right up to it:
The rest of the afternoon was filled with ribollita, wandering down alleyways and drinking wine with the boy.  We had another 4 hour train ride ahead of us back to Rome, so we slowly made our way to the station.  It was A LOT of train riding in one day, that I wouldn't recommend for everyone, but we had a great Pisa day trip.