The Pantheon is the world's oldest building in continuous use.
What was once built as the home of the ancient Roman gods is now a Catholic Church – known as the Basilica of Santa Maria ad Martyres.
The repurposing of the domed-building is impressive. The ceiling soars above you, drawing your attention up up up to the perfect oculus.
Inside, the Pantheon shows very little of its 1,890 years.
It is all pretty magical if you ask me, but some days Rome is even more magical than usual.
Pentecost Sunday is one of those days.
In the Pantheon, Pentecost is celebrated with la pioggia di petali di rose — the raining of rose petals.
Once a year, after the 10:30 am Pentecostal mass, petals fall from 144 feet (44 meters) above.
The tradition of raining rose petals dates back to 609 AD.
The falling petals symbolize the descent of the Holy Spirit. Specifically, the tradition is meant to symbolize the tongues of fire- a scene from the Acts of the Apostles.
The mechanics behind the beautiful tradition are quite practical – Roman firefighters haul up bags of petals and wait until noon.
Once the mass has ended, the vigili del fuoco begin to drop the rose petals from the rim of the Oculus. As you watch the flower's slow descent, you can catch a glimpse of a fire fighter's head peeking in to observe the shower of petals from above.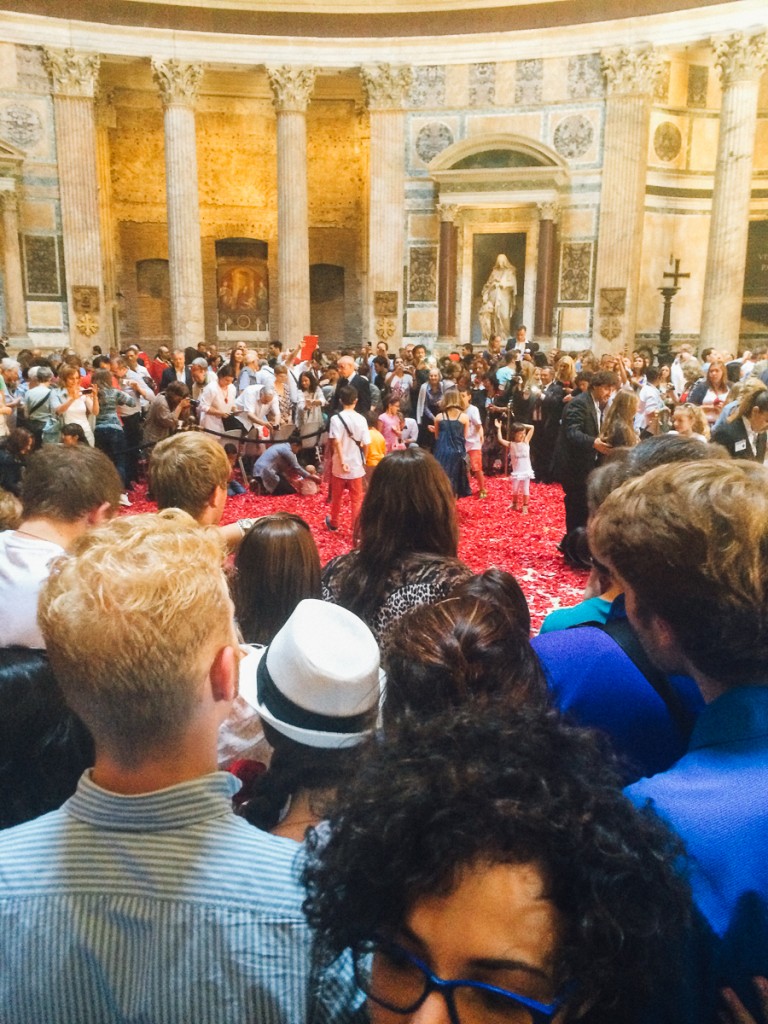 In the end, the center of the Pantheon is blanketed a deep red and filled with the scent of thousands of roses.
This year, Pentecost mass will take place on 9 June in 2019.
I am so glad that I have seen la pioggia. Here is how you can see the raining of the roses at the Pantheon:
When: The roses begin to fall at noon, but the church will be full starting from the 10:30 mass. One options is to arrive very early and try to get a seat — though these are often reserved for the very young or the very old. I would recommend being inside before 10 am at the latest if you want to ensure you are going to be granted entrance.
What to expect: Be prepared to stand for a few hours. You need to arrive early in order to ensure that you get in, but that also means you will be waiting for noon to arrive. If you stand towards the center (near the roped off area), you will be closer to where the petals fall. However, most of the actual mass will be taking place in the front – and the mass lasts much longer than the raining of petals, so you may want to consider getting as far forward as possible. The falling petals will be visible from anywhere inside.