Pasticerria Tonolo is one of the most famous pastry shops in Venice. While it can be hard to say no to gelato, in Venice I always prefer to find a chocolate fix and Tonolo has an amazing selection of sweets.
Located in the Dorsoduro neighborhood, past L'Accademia if you are coming from San Marco, Tonolo is a bit off the usual circuit.
Only about two minute's walk from the main campus of Ca' Foscari, the pastry shop is perpetually full of university students and other locals. It has been open since 1886 and is well known by sweets lovers throughout the city.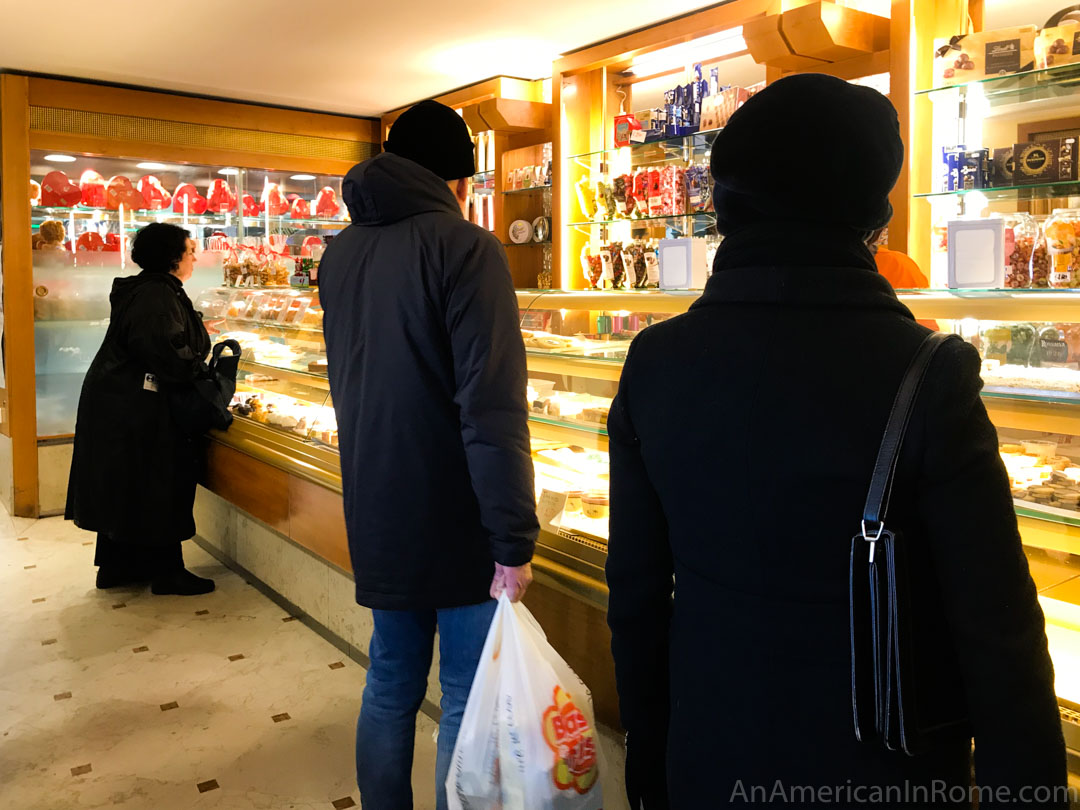 It has a long counter filled with sweets and it can be hard to choose. Luckily, you can easily budget for several because the paste (pastries) ring in at a mere €1.20 each.
There are no chairs or tables at Tonolo but you can find room to eat your chosen dessert at the coffee bar or standing along the small counter in the back. The coffee comes served in beautiful blue and white china cups, which seem at odds with how otherwise casual the Venetian institution is.
The price and the atmosphere make Tonolo seem like the total opposite of fancy-pants Caffe Florian but the quality here is simply amazing for the value. Rich, rum-soaked chocolate cake? Don't mind if I do.

It is hard to tell you exactly what to order at Pasticceria Tonolo because it is all delicious so it's more about what catches your eye. The chocolate bignes are a fail-safe option but if you happen to be in Venice during carnevale season, this is one of the best places to get frittelle in the city.

The fried dough is decadent when filled with cream (alla cream) but I prefer the traditional veneziana. The Venetian frittelle is filled with raisins and pine nuts, fried and rolled in sugar.
The only thing sweeter is taking one to go in order to enjoy it with a side of Grand Canal views.
Pasticceria Tonolo
Calle S. Pantalon, 3764
Dorsoduro, Venice, Italy
Open: Everday except for Wednesday. Daily hours are from 7 am to 1 pm, and again from 3 pm to 8:45 pm.