Venice and coffee go together like Venice and coffee. Once the center of global trade and ridiculously rich, Venice was the first place coffee seems to have ever reached in Europe. So why is it so hard to find a great specialty coffee in Venice today? Luckily, there is Caffè del Doge.
Caffè del Doge is one of the few coffee bars serving truly good coffee in Venice, and this probably has something to do with local tastes and high tourist turnover.
Italians love their robusta, a high-caffeine coffee that creates that desired bit of crema on top of an espresso. But third wave coffee tends to be almost exclusively 100% Arabica, a more expensive and nuanced type of coffee. So if you have locals who like cheaper blends, and tourists who don't really need to be impressed because they will never come back – why make good coffee?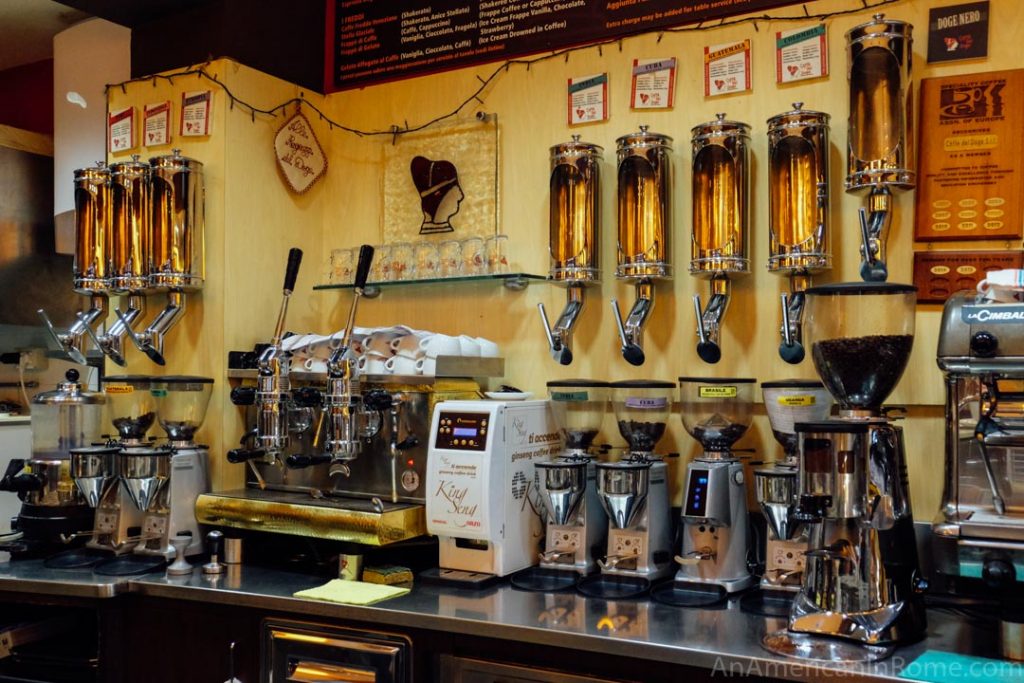 Well, Caffè del Doge does and does it well.
The original coffee shop can be found about a two-minute walk from the Rialto Bridge, down a narrow street that feels pretty deserted during the off-season.
That is until you get near the doors of the coffee shop and are hit with the buzz of morning chatter as people pop in for a quick caffè at the bar.
There are more famous coffee bars in Venice (I'm looking at you, Caffe Florian), but Caffè del Doge has some of the best coffee.
The bar roasts its own specialty beans and creates blends that are for sale in 100g increments, or can be ordered and prepared on the spot.
I was honestly a little surprised, but not disappointed, to see that Caffè del Doge uses a La Cimbali machine. Most specialty coffee spots feel the need to go with a La Marzocco machine (Like Faro and Tram Depot in Rome, or Ditta Artigianale in Florence).
The house coffee that was used in my cappuccino was dark, but never burnt, with a hint of chocolate.
Though, if you want to, you can always up the sweet factor and order a Cappuccino Veneziano, with chocolate shavings on top. (Just remember that the coffee will always be more expensive if you sit down and order, verse drinking it at the bar).
The storefront that Caffè del Doge can be found in was actually once the roastery. The coffee roasting business was set up right here in 1952 but has since moved to Padua.
It is an excellent stop for a pick-me-up after battling the crowds around San Marco and the Rialto Bridge, or as a fuel before a morning jaunt around the historic Rialto fish market.
There is now also a second location in Cannaregio (Rio Terà S. Leonardo, 1403), which is not too far from the train station and has great pastries. (I'm still dreaming of the one I ate there filled with pecans – a very hard to find ingredient in Italy).
I stop by every time I am in Venice, I hope you will too.
Caffè del Doge
Calle dei Cinque San Polo 609
Venice, Italy (Rialto)
Open every day from 7 am – 7 pm.