I vaguely knew about the existence of a park in the center of Rome but since I had never really SEEN Villa Aldobrandini, I did not know exactly where it was.
It turns out that you can't see Villa Aldobrandini because the gardens are elevated above street level. That means that most people walk right by along Via Nazionale without ever knowing how close they are to the green escape.
You might not be able to easily see the entrance to the park but that small elevation comes with the added bonus of great views once you do stumble upon the old gardens.
The park can be found between Via Panisperna and Via Nazionale, with the only accessible entrance on a side street- Via Mazzarino. (Though there are quite a few steps so keep that in mind if you plan to visit with luggage/strollers).
The villa takes its name from Cardinal Pietro Aldobrandini, who received it from his uncle Pope Clement VIII in 1601.
The grounds were actually once much larger and stretched all the way to the Quirinale Palace. The villa was cut short and its gardens remodeled when Termini Station was built in the 19th century. The land was given over to make way for Via Nazionale to connect the train station to Piazza Venezia.
The garden still retains its original layout but this is one of those sites in Rome where I just want to shake the city government! The park could be so beautiful but it is instead largely abandoned and left to its own scraggly devices.
There are plenty of statues (replicas, in fact) without heads.
There are also shady areas and lots of benches to take a break. Unfortunately, the once splendid botanical gardens are now fairly unkempt.
You will still find pomegranate and other trees if you keep your eyes peeled.
But the best part of Villa Aldobrandini is the view.
In fact, I only finally made it to the park because we decided to take a staycation and our hotel room was RIGHT there – on the top floor of the Roma Luxus.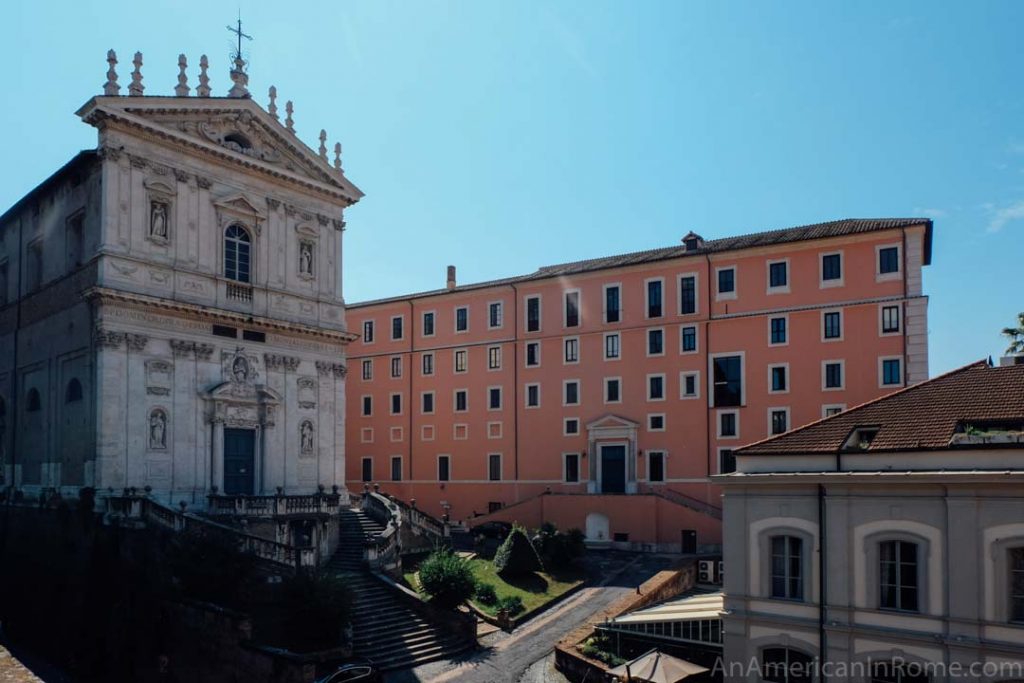 If you need a break from the crowds on the central streets of Rome, it is worth the short trip up the steps to wander through the very empty villa gardens.
Otherwise, plan a trip to some of the more impressive parks in Rome (which only requires a tiny bit more effort to leave the center).