When it comes to Mexican food in Rome, I am usually curious but incredibly skeptical.
Yes, I know there is a place by the Vatican. No, I am not a fan.
So when I heard that Pico's Tacos was (re)opening in Trastevere, I was intrigued but not willing to roll out the red carpet welcome.
Minus a year in the Bay Area, I spent my entire pre-Roman life in Southern California. I do not take tacos lightly.
But I also really really really miss tacos, so I was willing to risk Pico's.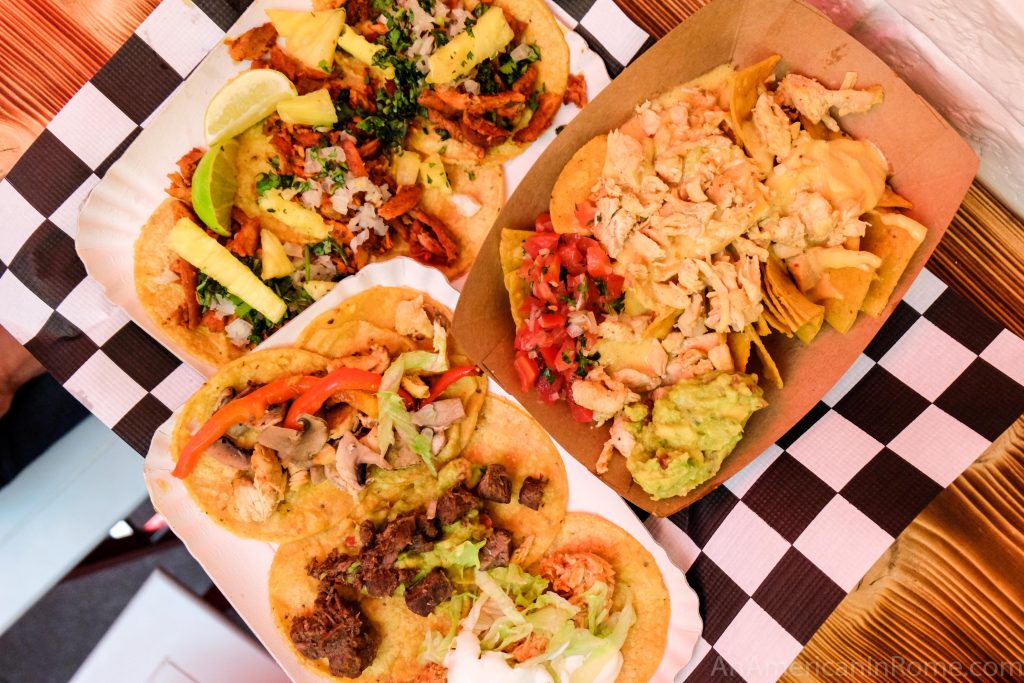 Between two orders we had tacos: al pastor, pollo, res, and tinga de pollo.
Each taco can be paired with fresh made salsa, including a chipotle salsa and salsa verde.
I can't say that these were life changing tacos, but I was pleasantly surprised. The only weird one in the bunch was the chicken taco which came with mushrooms and other vegetables.  The tinga de pollo taco was much better.
Plus, the tacos are only €2 each, or 3 for €5. They come on small, fresh corn tortillas (thank god), and so you really basically get six mini tacos for €5. That is straight up a good deal, particularly in Trastevere.
Pico's is a taqueria and an American grill, so we also tried the nachos.
I vote to skip these. The chips are crisp, the guacamole and pico de gallo is fresh, but the cheese texture is totally off. Hopefully this will improve in the future.
We haven't tried any of the American offerings like Philly Cheesesteak, but there were students from a nearby international campus extolling its virtues.  Otherwise, it was just Sara and I, and a group of Mexican priests.
The restaurant is takeaway style, but there are a few ledges to sit to have the tacos onsite along with a corona or two. For a more upscale version, consider La Punta on the other side of the neighborhood.
Pico's Taqueria and American Grill
Via della Pelliccia, 27
Rome, Italy (Trastevere)
Open Monday – Saturday from 12 pm – 3 am, and Sunday from 6 pm – 3 am.