I arrived in Porto around 5 pm on a rainy Sunday and I fell in love.
Porto needs a bit of lovin', because overall it is crumbling.  Gorgeous tiled facades are falling into decay.
However, if you give it a bit of chance, it is an easy city, which is what I wanted on my first solo trip in years.
Porto is manageable and affordable. To get from Porto airport into the city, you simply catch a metro from the airport terminal into town. €2.45 and 25 minutes later, you are in the center.
I only had 48 hours in Porto. (Well, 45 if you want to be precise).  With two days in Porto, here is what you can do, eat and drink.
Do
1. Visit the Mercado do Bolhão.
The iron wrought two story building seems to be held up exclusively by scaffolding.  It is a carry over from another time, that does not seem to care that a modernizing city is zipping by outside.
It is not just crumbling, but decaying.
However, despite the sagging appearance, Porto's old market is still the perfect place to pick up a live rooster, some cured meat, or even a souvenir hand towel.
2. Take the tram.
This was touristy, but a good option to escape the rain.  Rather than take Tram 1, which heads out the beach front, I took the circular 22 which stays in the center since I only had a few hours before my train.
3. Shop for a retro-inspired souvenir at A Vida Portuguese (Rua Galeria de Paris 20).
I bought a rug, because that is the practical thing to do when you are traveling with carryon only.
I also loved Santo da Casa (which also has rugs on Rua de São João 56), and scored vintage ceramics for an amazing price at Patch Porto (Rua do Rosário 193).
4. Peak inside Livraria Lello & Irmão (Rua das Carmelitas 144) an incredible art nouveau bookstore. But the crowds are also incredible so decide if you are willing to brave the crush before paying the €3 entrance.
5. Wander by day.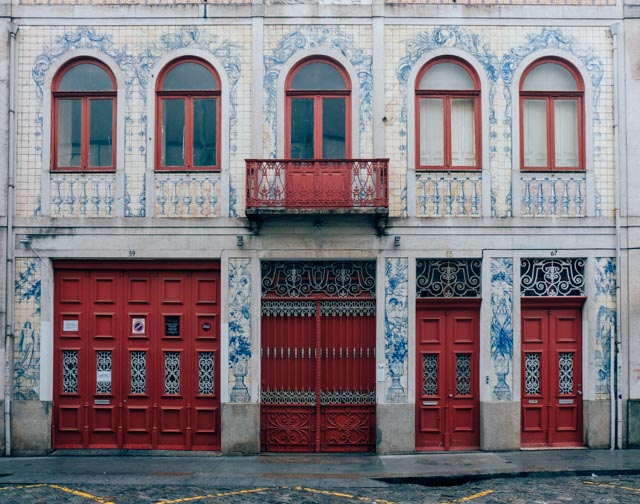 6. Wander by night.
Eat
Pastries at Confeitaria do Bolhão (Rua Formosa 339).
So many pastries at Confeitaria do Bolhão!
Then grab lunch at Casa do Evaristo (Rua de Fernandes Tomás 535).
This cute bistro offers a daily special (grilled fish and potatoes for me), water, wine and dessert for only €8.50.
What I missed eating in Porto was the famous francesinha, a monster meat sandwich.  Café Majestic on Rua Santa Caterina seems to be the most recommended, but I mainly just kept eating pastries.
Drink
Sit down for a glass of Douro wine along the Douro.
Sunset is best.
Cod chips at Bacalhau (Muro dos Bacalhoeiros 154) are optional. I liked one bite.. maybe two. Then, that was enough.
If beer is more your style, pop into Galeria de Paris (Rua Galeria de Paris 56) for cheap Super Bock on tap.
Plus atmosphere. A lot of atmosphere.
But you cannot leave Porto without trying a bit of Port.
I opted for the Cálem cellar tour.
Plus, by wandering over to this side of the river, you have fantastic views of Porto.
Stay
Hotel Eurostar Das Artes (Rua do Rosário 160) was the best €57 hotel I have ever stayed in.  However, if you want to stick to public transport, the location is not ideally located near any metros.  I spent my time in Porto on foot, and could get just about anywhere in 15 minutes.
Enjoy!
P.S. Many many thanks to Livia for all her recommendations which made my trip that much better!